In my journey to find a unique blend of historical charm, untouched natural beauty and awe-inspiring coastal vistas, I stumbled upon the enchanting Faro De Maspalomas on Gran Canaria.
Steeped in 19th-century lore, this operating lighthouse isn't just an iconic emblem but also offers heart-stopping experiences that'll stay with you long after your visit is over. So come along as we delve into the fascinating allure of this must-visit landmark – it's sure to spark a deep love for history and nature in your soul!
Construction and Importance of the Lighthouse
The construction of Faro De Maspalomas dates back to the late 19th century and holds great historical significance as a navigational beacon for ships in the Atlantic Ocean.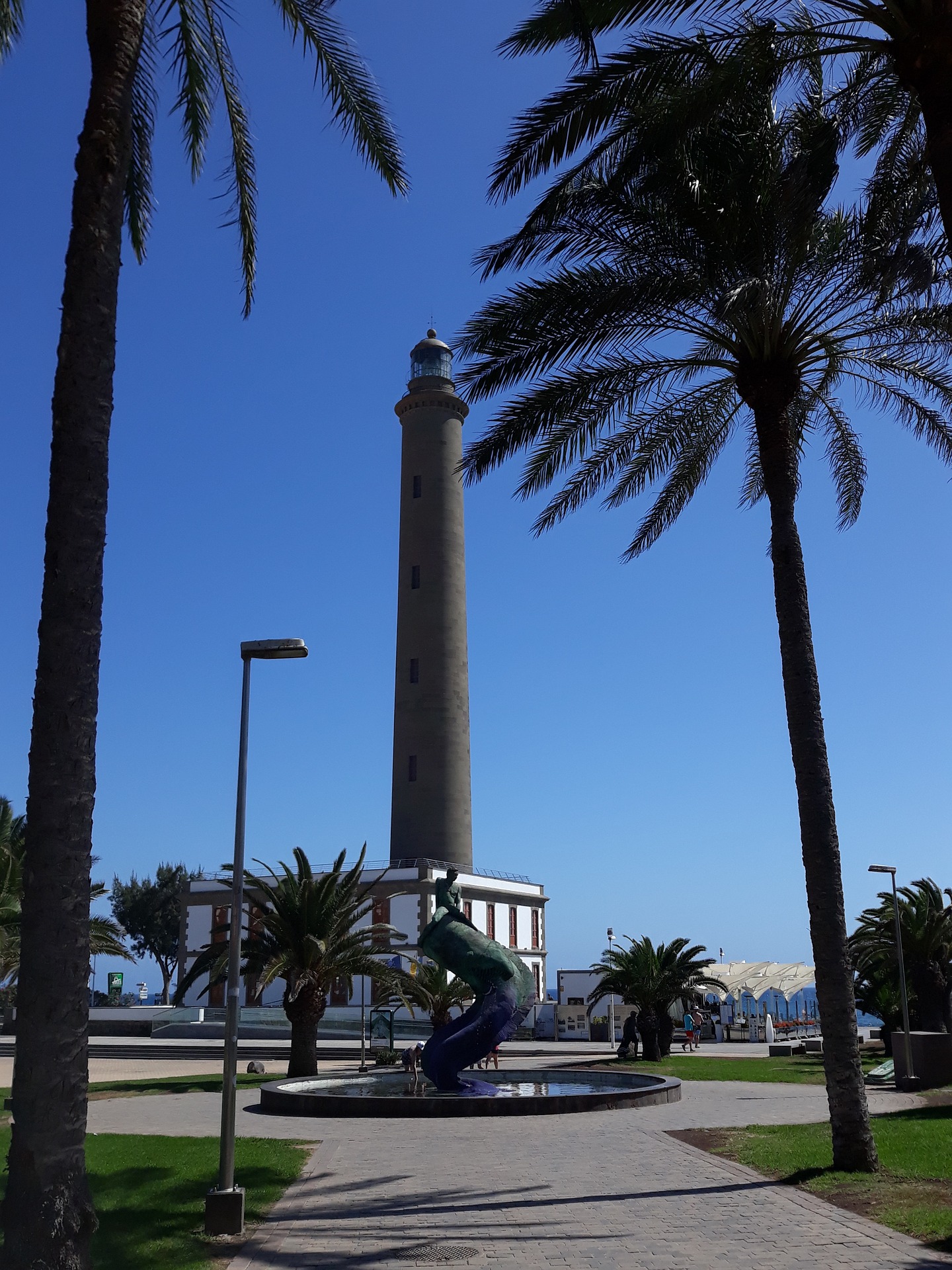 Historical background
The Maspalomas Lighthouse is very old. People first lit it up over 125 years ago. This makes it older than the nearby resort area. The lighthouse stands at the end of Maspalomas beach.
It is close to the famous Maspalomas Dunes, about 4 kilometers from town center. From this spot, you can see a lot! You get clear views of the coastline and stunning dunes. For many years, this tall tower has helped ships find their way in dark nights and thick fog.
Significance as a landmark
Faro De Maspalomas stands tall as a proud mark of Gran Canaria's rich history. For 125 years, its glow has lit up the southern end of this Spanish island. It is more than just an active 19th-century lighthouse.
It stands as a symbol and one of the most known spots on Gran Canaria.
People from all over the world come to see it. Walking along the beach or through the Maspalomas Dunes, you can't miss it. The sight of Faro De Maspalomas against the deep blue Atlantic Ocean makes for perfect photos.
This lighthouse is not just about light and direction for boats at sea—it's also about culture, history, and beauty.
Activities and Attractions around Faro De Maspalomas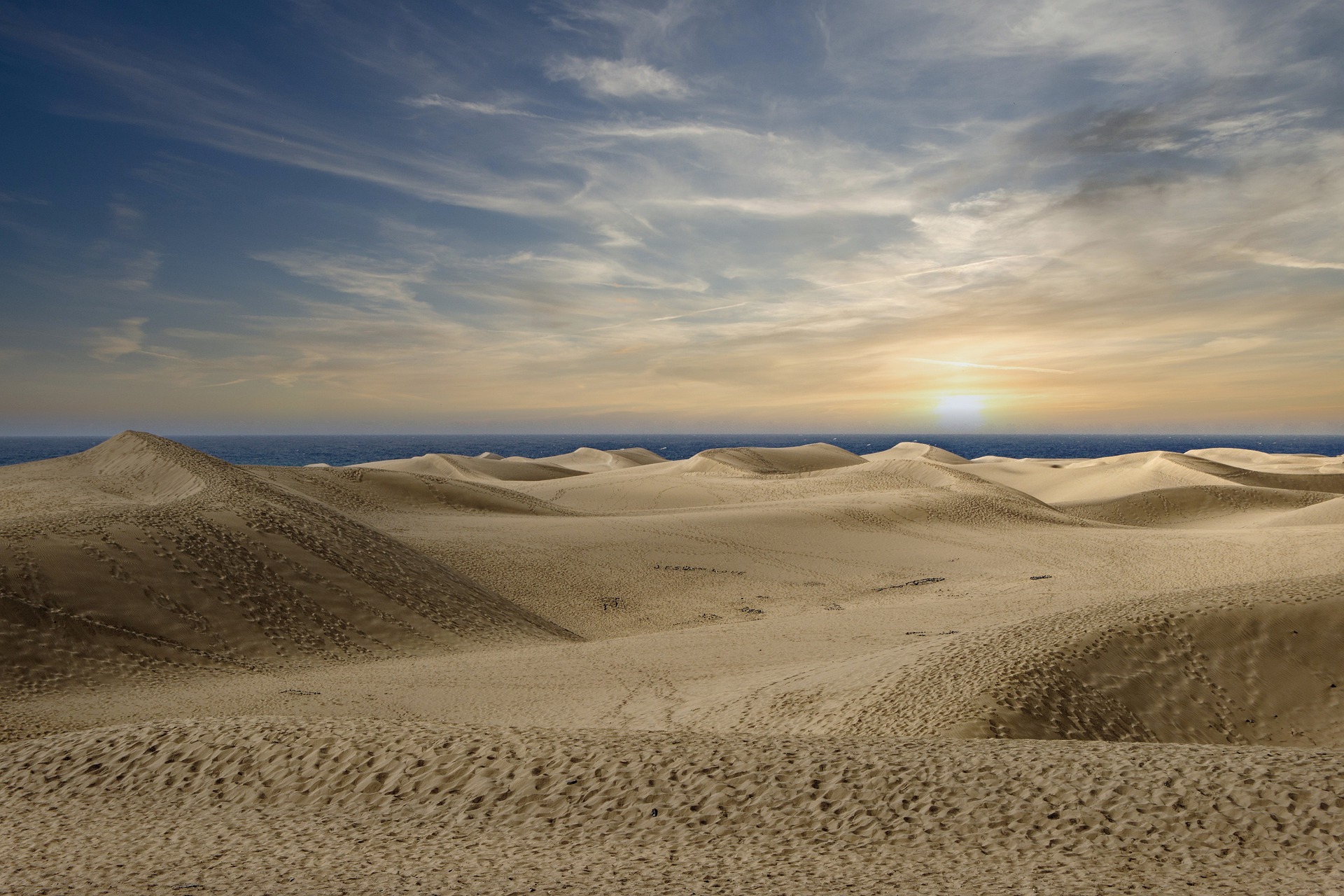 The activities and attractions around Faro De Maspalomas include exploring the stunning Maspalomas Dunes, relaxing on the beautiful beaches, and discovering nearby resorts and town centers.
Maspalomas Dunes
The Maspalomas Dunes are a must-see near the lighthouse. They look like a small desert! You can walk on them and feel the soft sand under your feet. If you climb to the top, you can see the ocean.
It's beautiful at sunset. Many people say these dunes make them feel like they're in an adventure movie! Don't forget to bring your camera for some amazing shots of this unique spot.
Beaches
The beaches around Faro De Maspalomas are a major attraction for tourists visiting Gran Canaria. With their golden sand and crystal-clear waters, they offer the perfect spot to relax and soak up the sun.
The most famous beach is Maspalomas Beach, located right next to the lighthouse. It stretches for miles and provides plenty of space for swimming, sunbathing, or taking long walks along the shoreline.
There are also other beautiful beaches nearby, such as Playa del Inglés and Meloneras Beach, which offer a more tranquil atmosphere. Whether you're looking for water sports or simply a place to unwind, the beaches around Faro De Maspalomas have something to offer everyone.
Nearby resorts and town centers
When visiting Faro De Maspalomas on Gran Canaria, there are several nearby resorts and town centers that you can explore. These places offer a range of amenities and activities for tourists to enjoy. Here are some options:
Playa del Inglés: This popular resort town is located just north of Faro De Maspalomas. It is known for its vibrant nightlife, with many bars, clubs, and restaurants to choose from. Playa del Inglés also has beautiful beaches where you can relax and soak up the sun.
Meloneras: Situated to the southwest of the lighthouse, Meloneras is a luxurious resort area with upscale hotels, designer shops, and golf courses. It offers a more relaxing and sophisticated atmosphere compared to other nearby towns.
San Agustín: Located east of Faro De Maspalomas, San Agustín is a quieter resort town that attracts families and couples seeking a peaceful vacation. It has a lovely beach lined with palm trees and offers various water sports activities.
Puerto Rico: Situated to the west of the lighthouse, Puerto Rico is a bustling resort town known for its lively marina and water-based activities such as boat trips and fishing excursions. It has two beaches where you can enjoy swimming and sunbathing.
Mogán: Further west from Puerto Rico lies the charming town of Mogán. Known as "Little Venice" due to its network of canals lined with colorful buildings, it offers a picturesque setting for strolling around, shopping at local boutiques, and dining at waterfront restaurants.
Visiting Faro De Maspalomas
To visit Faro De Maspalomas, you can easily get there by car or public transportation.
How to get there
To visit Faro De Maspalomas, here are the ways to get there:
Fly into Gran Canaria Airport and take a taxi or rent a car to reach the lighthouse.
If you're already on the island, take a bus or taxi from your resort town to Maspalomas.
Once in Maspalomas, you can walk along the beach or rent a bike to reach the lighthouse.
There are also organized tours that include Faro De Maspalomas as part of their itinerary.
Entrance fees and opening hours
Visiting the Faro De Maspalomas is an experience you won't want to miss on your trip to Gran Canaria. However, it's important to note that the lighthouse itself is not open to tourists. You are free to walk around the base of the lighthouse and enjoy the surrounding dunes and beach any time of day, year-round, without any entrance fee. The new development plans for the lighthouse area include a museum, a craft shop, and a tourist information point, and these may have specific opening hours and entrance fees once they are established.
| Attraction | Opening hours | Entrance Fee |
| --- | --- | --- |
| Faro De Maspalomas (Lighthouse Grounds) | Open 24/7 | Free |
| Maspalomas Dunes | Open 24/7 | Free |
| New Planned Developments (Museum, Craft Shop) | To Be Announced | To Be Announced |
So, whether you're an early bird hoping to catch the sunrise or a night owl looking for a romantic stroll under the stars, the Maspalomas Lighthouse and its surrounding area are waiting for you. Plus, with no entrance fee, it's a budget-friendly attraction too. Enjoy the stunning views!
Safety precautions
Safety is important when visiting Faro De Maspalomas. Here are some tips to keep in mind:
Wear appropriate footwear for walking on sand and uneven terrain.
Stay away from the edges of the dunes as they can be unstable.
Be cautious of strong ocean currents if you plan to swim at nearby beaches.
Protect yourself from the sun by wearing sunscreen, a hat, and sunglasses.
Stay hydrated and bring water with you, especially during hot weather.
Follow any signage or instructions provided by authorities for your safety.
Keep an eye on your belongings and don't leave them unattended.
Respect the wildlife and ecosystem around the lighthouse by not disturbing or feeding any animals.
Future Uses and Preservation of Faro De Maspalomas
Conservation efforts are being made to preserve the historical significance of Faro De Maspalomas, including potential renovations and development plans. Read on to learn more about the future of this iconic landmark.
Conservation efforts
The Maspalomas Lighthouse is not only a popular tourist attraction but also an important part of the local heritage. Efforts have been made to preserve and protect this historic landmark for future generations to enjoy.
Conservation initiatives include regular maintenance and restoration work to ensure the lighthouse remains in good condition. The surrounding area, including the Maspalomas Dunes, is also protected to maintain its natural beauty and ecological value.
These conservation efforts aim to balance tourism with sustainability, allowing visitors to experience the unique charm of the lighthouse while safeguarding its historical significance and environmental importance.
Potential renovations or development plans
In the future, there are exciting plans to improve and develop the area around the Maspalomas Lighthouse. The aim is to enhance visitors' experiences by offering new attractions and amenities.
Some of these plans include opening a craft shop where you can find unique local souvenirs, creating a museum that will showcase the island's history, and setting up a tourist information point to provide helpful guidance about nearby attractions.
These developments will not only preserve the lighthouse's historic significance but also make it an even more enjoyable place for tourists to visit.