Ever found yourself daydreaming about slipping away from the bustling crowds to bask in the sun on serene, untouched beaches? Trust me, I've entertained those very same thoughts until I stumbled upon Playa De Sardina del Norte in Gran Canaria.
This tucked-away treasure boasts pristine sandy beachfronts, crystal-clear waters and is an absolute paradise for fresh seafood aficionados. Join me as we explore why this inviting seaside escape should confidently claim a spot on your must-visit list.
Overview of Playa De Sardina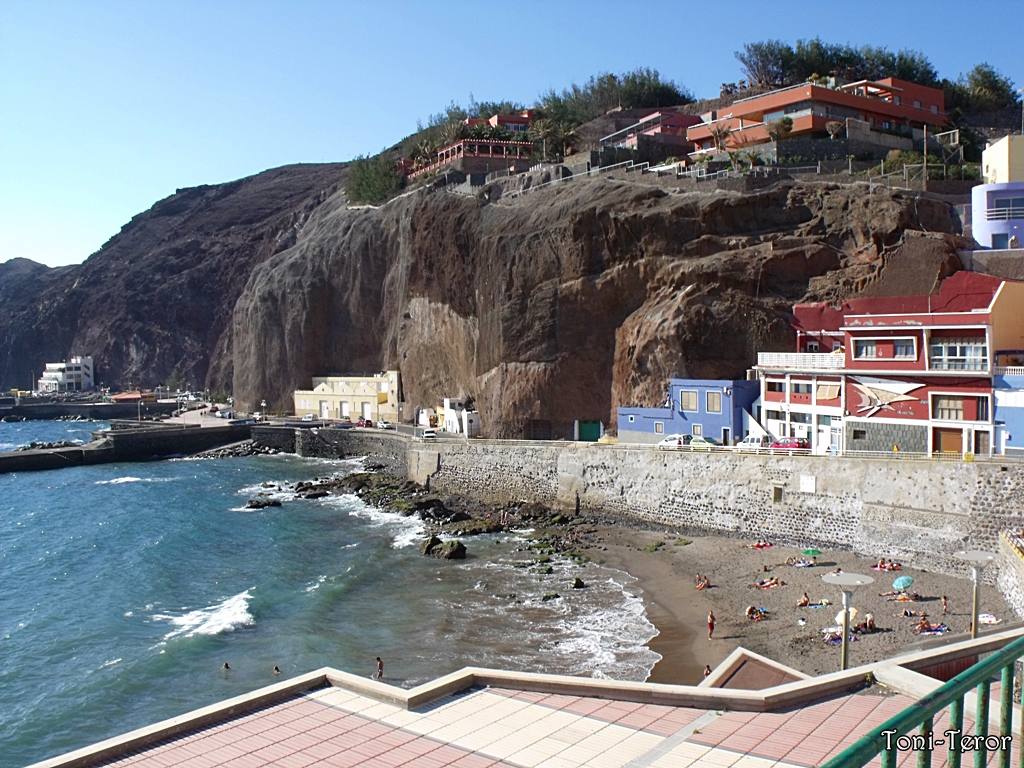 Playa De Sardina on Gran Canaria is a hidden gem for beach lovers looking to escape the crowded tourist areas. As someone who craves peaceful coastal views, I understand the frustration of finding a tranquil beach that offers both beauty and activities. Thankfully, after extensive research, I've discovered Playa De Sardina del Norte – a small but charming sandy beach located in Gáldar. This cozy spot has been awarded the prestigious Blue Flag Award for its excellent water quality, making it an ideal destination for those seeking a relaxing seaside getaway.
Location
Playa De Sardina del Norte sits in the town of Gáldar on Gran Canaria island. This spot is up north, away from heavy crowds. You'll find it beyond the main areas where most tourists go.
It's not hard to reach though! The beach gives you a calming break with lots of nice sights along the coast. Cool down and take in all the beauty!
Features
Playa De Sardina del Norte is a quiet and small beach. It has a Blue Flag Award, which means it has very clean water. The beach used to be a fishing harbor. That's why you can still get fresh seafood there today.
It's not just the sandy shore that makes this place special. Divers love coming to Playa De Sardina to see angel sharks and whale sharks in the clear sea water! There are also smaller bays around like Roqueta Beach and Barranquillo del Vino.
These make the coast of North Gran Canaria even more beautiful to look at.
Remember, this spot isn't big or busy like other tourist areas on Gran Canaria Island. So if you're looking for peace with stunning views, come here! You can enjoy the lovely sunset over the piers too!
Awards
Playa De Sardina won the Blue Flag Award. This award is for beaches with very clean water. It's not easy to win, but this beach did it! So, you know the water is safe for swimming and diving.
You can enjoy your time at Playa De Sardina without worry.
Activities and Attractions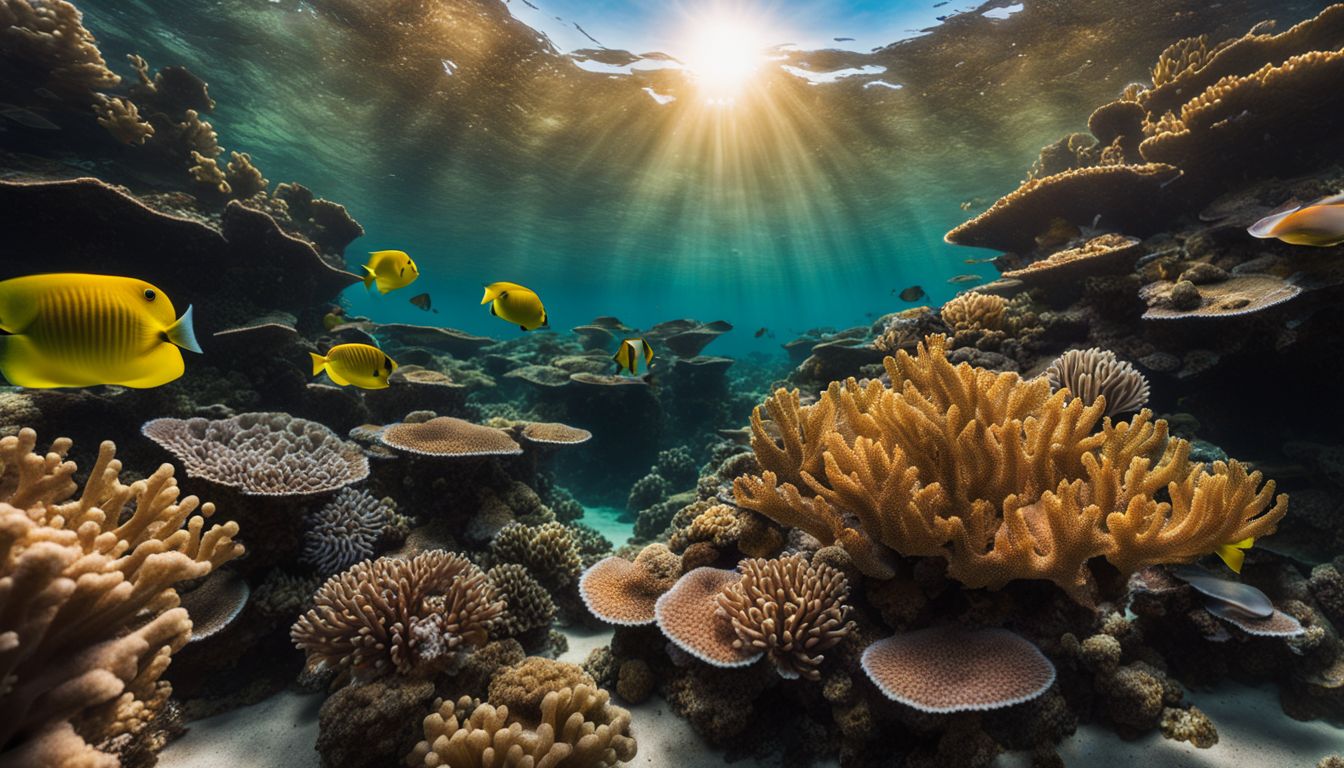 Dive into the crystal-clear waters of Playa De Sardina and explore the vibrant marine life beneath the surface.
Diving
I love diving in Playa De Sardina del Norte! The clear waters here are perfect for exploring the underwater world. You can spot harmless angel sharks and even whale sharks if you're lucky.
The beach is surrounded by smaller bays, like Roqueta beach and Barranquillo del Vino, which also offer great diving opportunities. It's a fantastic experience to dive in these beautiful coastal waters and discover the fascinating marine life that calls this area home.
Seafood
Sardina del Norte is still known for its delicious seafood. Being a former fishing harbor, you can find fresh and tasty seafood dishes here. From grilled fish to paella, there are plenty of options to satisfy your seafood cravings.
Don't forget to try the local specialty: octopus stewed in spicy sauce. The restaurants near Playa De Sardina serve up these delectable dishes using the freshest catch of the day. You'll definitely want to indulge in the mouthwatering flavors of the sea during your visit to Sardina del Norte.
Nearby attractions
There are several attractions near Playa De Sardina del Norte that you can explore during your visit. Some nearby attractions include:
Facilities and Services
The beach at Playa De Sardina offers lifeguard service and other beach facilities to ensure a safe and enjoyable experience. Find out more about the amenities available at this stunning destination!
Lifeguard service
At Playa De Sardina del Norte, there is a lifeguard service available to ensure your safety while enjoying the beach. The presence of trained lifeguards gives you peace of mind and allows you to relax and have fun in the water.
They are there to watch over swimmers and provide assistance if needed. So, whether you're an expert swimmer or just starting out, you can feel confident knowing that there are professionals looking out for your well-being at all times.
Beach facilities
At Playa De Sardina del Norte, there are several facilities available to make your beach experience more enjoyable:
Umbrellas and sunbeds are provided for rent, so you can relax in comfort.
Showers are available for rinsing off after a swim in the sea.
Lifeguards are on duty to ensure your safety while you're in the water.
There are toilets nearby for your convenience.
Beach bars and restaurants offer refreshments and snacks if you get hungry or thirsty.
Local guides and tours
I recommend exploring Playa De Sardina with the help of local guides and tours. Here are some options to consider:
Guided snorkeling tours: Discover the vibrant underwater world of Sardina del Norte with a knowledgeable guide who can point out the different marine species and provide safety tips.
Boat trips along the coast: Take a leisurely boat tour along the stunning coastline of Gran Canaria, where you can admire the dramatic cliffs and hidden coves.
Cultural tours in Gáldar: Join a guided tour of Gáldar, the nearby town, to learn about its rich history and visit attractions such as the Ron Arehucas Distillery and Barranco de las Vacas.
Hiking excursions: Explore the natural beauty surrounding Playa De Sardina on a guided hike. Discover breathtaking viewpoints and learn about the local flora and fauna.
Food tours: Indulge in a culinary adventure by joining a food tour that takes you to local restaurants and markets. Taste fresh seafood dishes and traditional Canarian cuisine.
Tips for visiting the beach
Here are some tips for visiting Playa De Sardina del Norte:
Bring sunscreen and a hat to protect yourself from the sun.
Don't forget to pack your snorkeling gear if you want to explore the underwater world.
Be prepared for the possibility of strong currents in the water, so it's important to swim with caution.
If you're not a strong swimmer, consider staying close to the shore where it's safer.
Make sure to stay hydrated and bring enough water with you, as there are limited facilities on the beach.
Respect the natural environment by not leaving any trash behind and keeping the beach clean.
Check the weather forecast before going to the beach, as rough seas or bad weather can affect your experience.
Enjoy watching the beautiful sunset from Playa De Sardina del Norte, it's a sight you don't want to miss.