Are you longing for a breather from the relentless pace of everyday life, dreaming of surrendering to the calming whispers of a beach-side haven? Not too long ago, I found myself weighed down by that same desire.
On my quest for peace and tranquility, I stumbled upon Playa De Amadores in Gran Canaria – translating simply as 'The Lovers Beach'. This post will let you into the charms of this white sand sanctuary where sapphire waters sparkle under the sun.
Furthermore, it will highlight how thoughtfully designed facilities ensure no one is left out – including those with disabilities. So come along on this virtual journey with me and discover a corner of paradise where serenity marries stunning vistas.
Playa De Amadores – A Beautiful and Tranquil Beach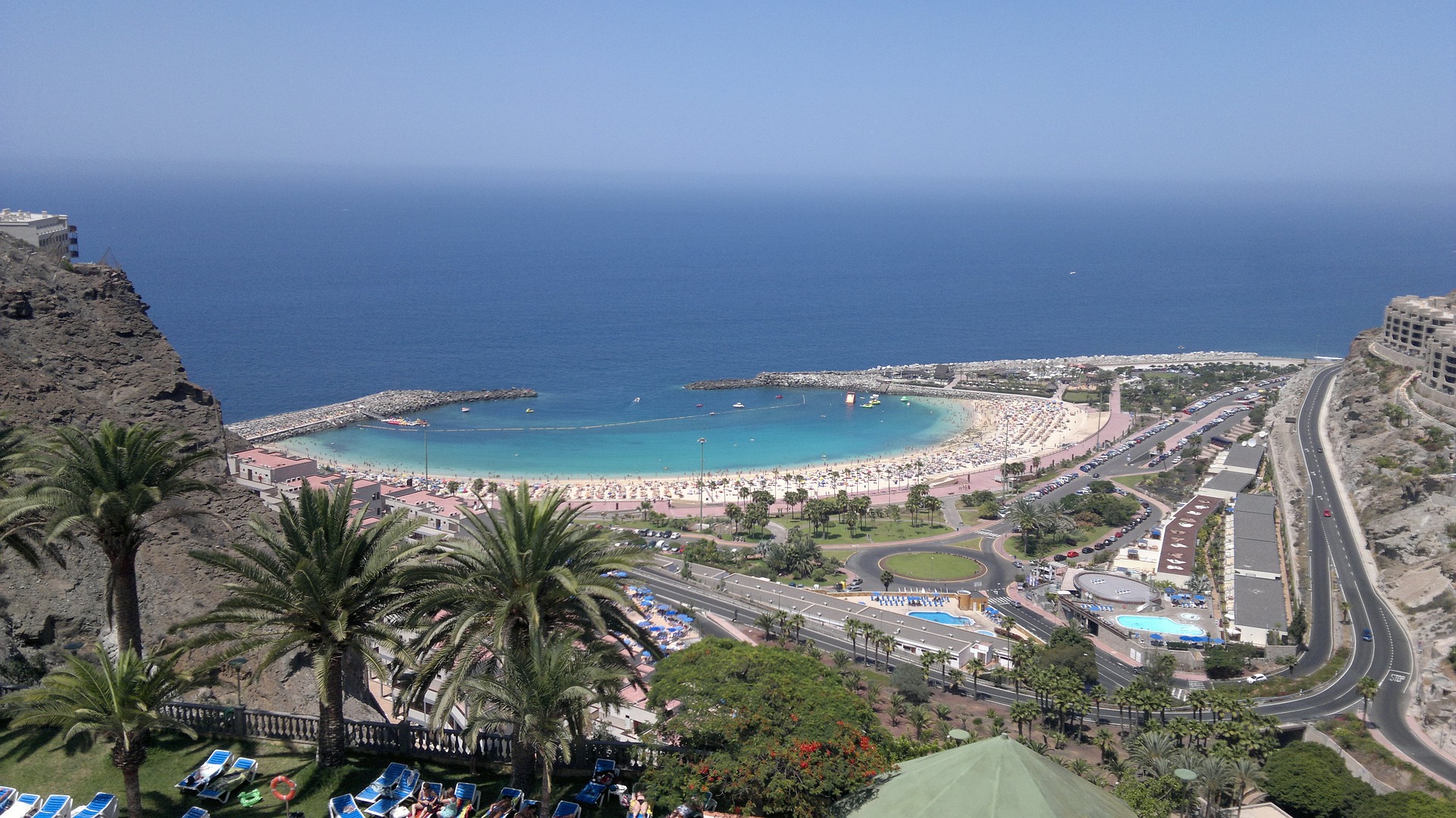 Playa De Amadores is a stunning beach that offers tranquility and beauty with its golden sand and crystal-clear turquoise waters.
https://www.youtube.com/watch?v=z8_ZIwncGxs
Description and features of Playa De Amadores
Playa De Amadores is a dream beach in Gran Canaria. It looks like a work of art with white sand and crystal clear water. Two big walls keep the waves away making this beach tranquil.
This manmade shield gives you calm sea for safe swimming. You will see many beds and brollies on the clean, compacted golden sand under the bright sunshine. The beach gets its name as 'The Lovers Beach'.
It makes an ideal spot for couples to enjoy some quiet, relaxing moments together. There are zones built specially for people with disabilities too, so everyone can have fun at Playa De Amadores!
Accessibility and facilities at the beach
I want to share about getting to Playa de Amadores and the things you can find there. You can reach this beach on the southwest coast of Gran Canaria with ease. There are transport options like buses, taxis and car rentals. It is also not far from Mogan municipality.
The beach has ramps for people who have a hard time walking.
For your comfort, there are beds and brollies for rent.
Clean water makes it perfect for swimming.
The sand is smooth and compacted so it's easy to walk on.
Two dykes keep the sea calm and tranquil.
Fresh food and cold drinks are sold in nearby shops.
Restrooms and showers are open to use.
Things to Do in Playa De Amadores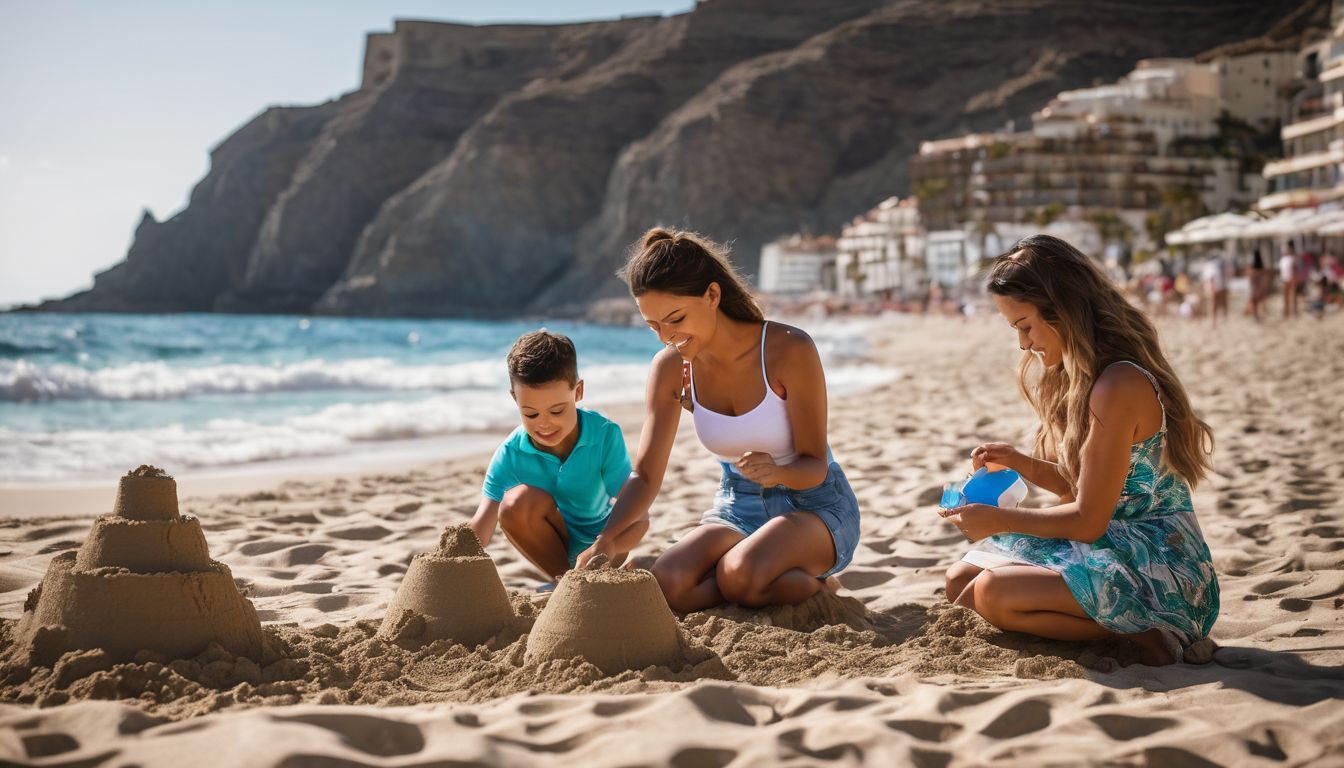 There are plenty of activities and attractions near Playa De Amadores to keep you entertained during your visit.
Recommended activities and attractions near the beach
I love spending my time at the beach and around it. There are many fun things to do:
Going for a swim in the crystal clear waters is refreshing.
The Happy Valley on the west side is great for a curry meal.
Sunbathing on the white sandy beach is relaxing.
Taking a walk along the compacted golden sand soothes my mind.
It's always romantic to watch the sunset at Playa De Amadores with your loved one.
You must not miss clicking some photos of this beautiful and tranquil beach.
For families, building sand castles can be quite an activity!
Just laying back on a bed under a brolly, soaking up the sunshine is peaceful.
Popular spots for couples and families
If you're visiting Playa De Amadores with your loved one or family, there are plenty of popular spots to enjoy together. Here are some recommendations:
Take a romantic stroll along the beach at sunset and watch the sky turn into shades of orange and pink.
Enjoy a picnic on the soft golden sand while listening to the sound of the waves crashing gently.
Visit the Happy Valley restaurant on the west side of the beach for a delicious curry meal with your partner.
Explore nearby Puerto Rico, a vibrant town known for its lively atmosphere and family – friendly attractions.
Go on a boat tour along the picturesque coastline and discover hidden coves and caves.
Spend a day at Angry Birds Activity Park, an exciting amusement park where kids and adults can have fun together.
Take a short drive to Puerto de Mogan, also known as "Little Venice," with its charming canals and pretty houses.
Visit Aqualand Maspalomas, a water park that offers thrilling slides and pools for all ages to enjoy.
Getting to Playa De Amadores
To reach Playa De Amadores, located in the Mogan municipality on the southwest coast of Gran Canaria, visitors can choose from various transportation options such as taxis, buses, or rental cars.
Location of Playa De Amadores
Playa De Amadores is located in southwest Gran Canaria, one of the beautiful Canary Islands in Spain. It is situated within the Mogan municipality, known for its stunning coastline and golden sand beaches.
This tranquil beach can be easily accessed by various transportation options available on the island. Its picturesque location and crystal-clear waters make Playa De Amadores a must-visit destination for tourists seeking relaxation and natural beauty.
Transportation options to reach the beach
Getting to Playa De Amadores is easy and convenient. Here are some transportation options you can consider:
By Taxi: Taxis are readily available in Gran Canaria, and you can easily hail one to take you to Playa De Amadores. Just tell the driver where you want to go, and they will take you straight to the beach.
By Bus: The local bus service in Gran Canaria is efficient and affordable. You can catch a bus at various locations on the island and get off at the Playa De Amadores bus stop. From there, it's just a short walk to the beach.
By Car: If you prefer the freedom of having your own transportation, renting a car is a great option. There are several car rental companies in Gran Canaria, and driving to Playa De Amadores is simple. Just follow the signs and enjoy the scenic drive along the southwest coast.