Are you dreaming of bathing in the sunshine, surrounded by tranquility, but not quite sure where on Earth to find that perfect secluded retreat? I can completely relate. Not too long ago, I found myself yearning for those serene moments spent in my own slice of heaven…
Tirelessly searching, sifting through countless options – until at last my efforts bore fruit. Guess what? Paradise exists and it's hidden away on the beautiful island of Gran Canaria with its wealth of luxury villas complete with private pools.
This blog post will be your personally curated guide to these exceptional hideaways – exploring their unrivaled amenities and breathtaking views right alongside me. Ready for a truly unforgettable escape from reality? Well then friend, let's dive right into our adventure!
What are the Benefits of Staying in a Private Villa with Private Pool in Gran Canaria?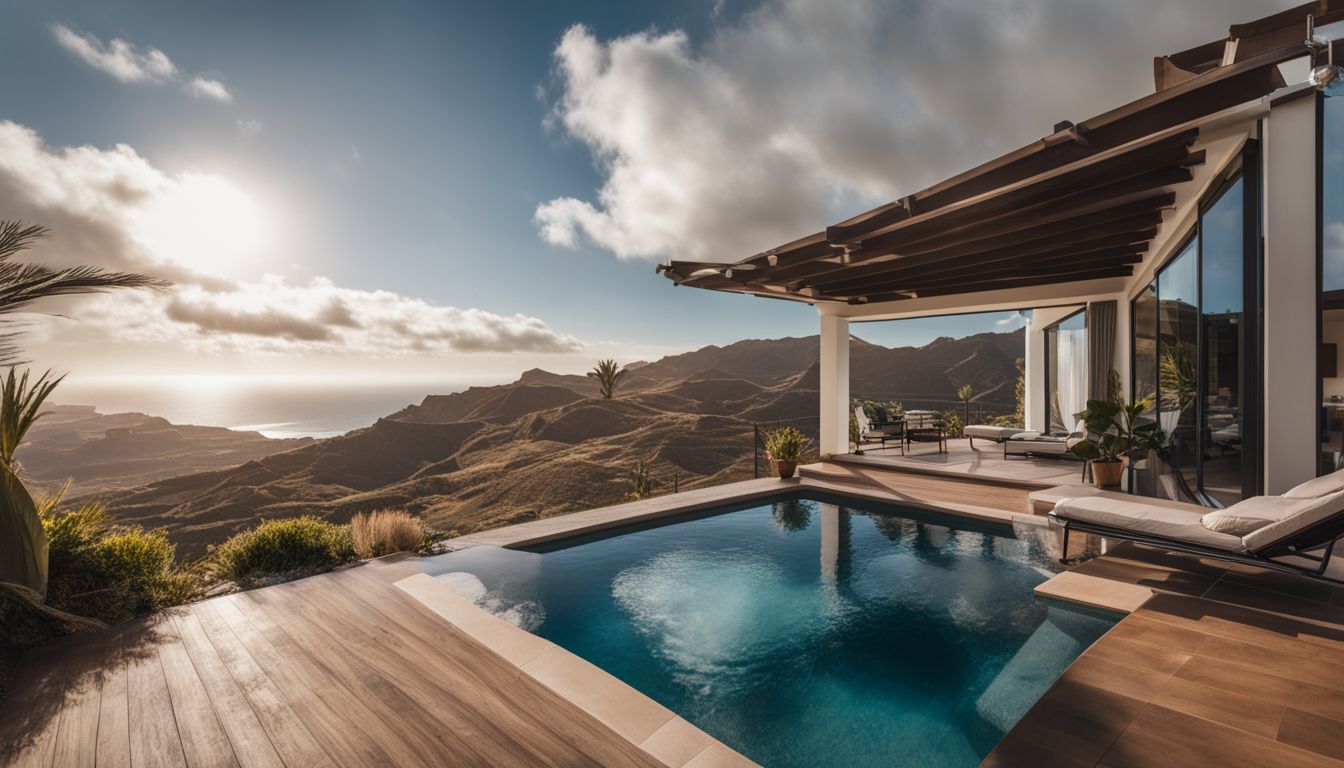 You get lots of room in a private villa with a pool. You and your family can spread out. Some villas are big enough for ten people or more! Your own pool means you don't have to share it with strangers.
Jump in whenever you want!
Staying at a private villa in Gran Canaria gives you peace. It's just like being at home, but better. Villa Los Dragos 4 is one place where you'll find this calmness. You can look over the golf course from this luxury spot.
Plus, there are great things to do all around Gran Canaria! Let the charm of the island pull you in.
Private villa life also gives perks that hotels don't offer. Fancy features like gyms and saunas could be steps away from your bedroom door! There's no waiting for other guests to finish using them.
Some spots even let you take in sea views right from your villa's porch. Villa la Atlantida does just that! All these special treats make staying at a private holiday villa very exciting.
What are the Top Experiences for a Private Villa with Private Pool in Gran Canaria?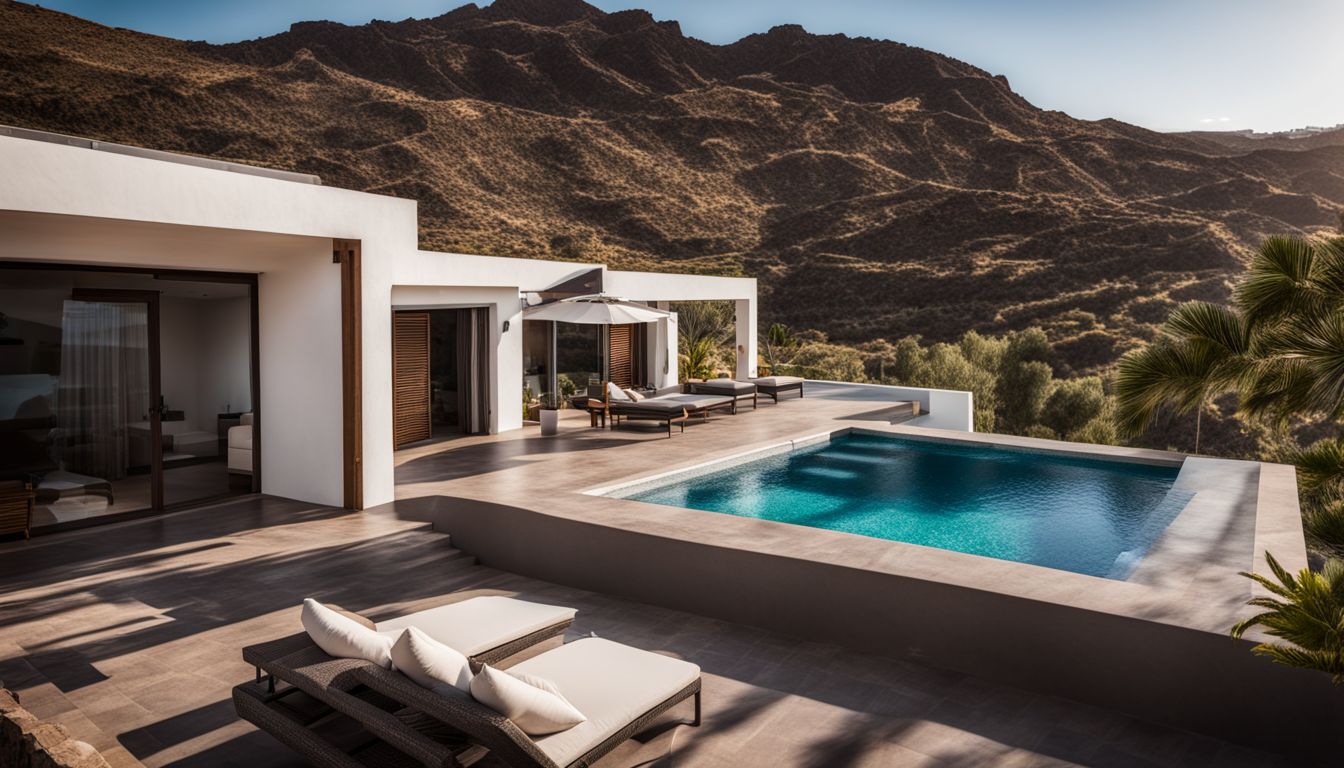 Living in a private villa with a pool in Gran Canaria is an exciting adventure. Here are some of the top experiences you must include:
Soak up the sun by your own pool at Villa Los Dragos 4. The villa overlooks the exclusive Salobre Golf Resort, offering stunning views.
Enjoy the convenience of having a private pool at Anfi Tauro Villas. It comes with other fun features like access to a gym and sauna.
Villa Meloneras is another great choice. Here, you can lounge by the pool and enjoy cable TV or use their washer and dryer.
If you choose Villa Parralito, you will get air conditioning, parking space, and a private pool to dip in anytime.
Villa la Atlantida provides more than just a pool. It offers stunning sea views that will take your breath away.
If you stay in Tauro, Mogan, be ready for luxury. This spot offers heated pools along with spacious rooms to rest after an invigorating swim.
https://www.youtube.com/watch?v=l1Taip24F7Q
Where are the Best Private Villas with Private Pools in Gran Canaria?
Gran Canaria is a dream spot for tourists. It's full of luxury villa rentals with private pools. One top pick is Villa Los Dragos 4, in the plush Salobre Golf Resort. It offers cool views over lush golf courses and has its own pool.
Another good area to rent a high-end villa is Tauro, Mogan. Here, you can find villas with heated pools and wide spaces to relax. They also offer great views that everyone loves.
Other top spots for private villa rentals with pools are Anfi Tauro Villas, Villa Meloneras, Villa Parralito and Villa la Atlantida. These places let you have lots of fun without ever leaving home!
Each villa comes stacked with must-have items like air conditioning and cable TV. Some even offer extra features like gyms or saunas! Oh – and let's not forget the stunning sea views from many of them too!
So regardless if it's a modern villa or an elegant retreat you're after, Gran Canaria has got your back covered!
The 10 Best Private Villas with Private Pools in Gran Canaria
I've done some extensive research and compiled a list of the 10 best private villas with private pools in Gran Canaria. These villas offer luxury, privacy, and stunning views, making them the perfect getaway for tourists visiting the island.
| Villa Name | Location | Unique Features |
| --- | --- | --- |
| Villa Los Dragos 4 | Salobre Golf Resort | Luxurious villa with private pool and breathtaking views over the golf course. |
| Anfi Tauro Villas | Anfi Tauro | Deluxe villa offering private pools and access to the gym and sauna. |
| Villa Meloneras | Meloneras | Premium villa with a private pool and stunning sea views. |
| Villa Parralito | Ingenio | Spacious villa with a private pool, offering privacy and relaxation. |
| Villa la Atlantida | La Playa de Arguineguin | Stunning villa with a private pool, providing a serene setting. |
| Villa in Tauro | Tauro | Offers a heated private pool and beautiful views. |
| Villa in Mogan | Mogan | Luxury villa with spacious accommodations and a private pool. |
| Villa in Maspalomas | Maspalomas | Located in a prime location, offering a private pool and air conditioning. |
| Villa in Playa del Ingles | Playa del Ingles | Offers private pools, satellite or cable TV, washer and dryer, and parking. |
| Villa in Puerto Rico | Puerto Rico | Offers private pools, air conditioning, and stunning sea views. |
Each of these villas has their own unique charm and features, making them a perfect match for any kind of tourist, whether you're seeking relaxation or adventure.
How to Choose the Right Private Villa with Private Pool in Gran Canaria?
Choosing the right private villa with a private pool in Gran Canaria is important to ensure a perfect vacation. Here are some tips:
Decide on your budget: Determine how much you are willing to spend on accommodation.
Consider the size: Think about the number of people staying with you and choose a villa that can comfortably accommodate everyone.
Check the amenities: Look for villas that offer amenities like air conditioning, TV, washer/dryer, and parking.
Location: Decide if you want to be near the beach, golf course, or other attractions.
Research reviews: Read reviews from previous guests to get an idea of the quality and service provided by the villa.
Look for additional features: If you want extra facilities like a gym or sauna, make sure the villa offers them.
Compare prices: Shop around and compare prices to get the best deal for your chosen villa.
What are the Different Activities You Can Do in a Private Villa with Private Pool in Gran Canaria?
Staying in a private villa with a private pool in Gran Canaria offers a range of activities to enjoy during your vacation. Here are some things you can do:
Take a relaxing swim in your own private pool, surrounded by the beautiful scenery of Gran Canaria.
Enjoy a refreshing cocktail by the poolside while soaking up the sun.
Have a fun and energetic water workout session in the pool.
Organize a poolside barbecue party with family and friends, cooking up delicious meals on the grill.
Spend quality time with loved ones, playing games and splashing around in the pool.
Read a book or take a nap on one of the comfortable loungers next to the pool.
Watch stunning sunsets from the terrace while sipping on your favorite drink.
Have romantic candlelit dinners by the pool, creating unforgettable memories with your partner.
Just relax and unwind in privacy, away from crowds and noise.
Key Holiday Destinations With Private Pools in Gran Canaria
I highly recommend considering Tauro, Mogan as one of the key holiday destinations for your private villa rental with a private pool in Gran Canaria. This fantastic location offers a heated private pool, providing you with the perfect opportunity to take a refreshing dip throughout your stay.
Moreover, Tauro boasts stunning views and spacious accommodations that will make your vacation truly unforgettable. Another popular destination is Salobre Golf Resort, where you can find luxurious villas like Villa Los Dragos 4.
Here, you'll have access to an exclusive private pool while enjoying breathtaking views of the golf course. It's an idyllic setting that guarantees relaxation and tranquility during your getaway.
With these incredible options, Gran Canaria provides numerous opportunities to unwind and soak up the sun in privacy and luxury.
How to Get to Your Private Villa with Private Pool in Gran Canaria
Getting to your private villa with a private pool in Gran Canaria is easy. Here's how:
Fly into Gran Canaria Airport, which is the main international airport serving the island.
From the airport, you can take a taxi or hire a car to get to your villa.
If you choose to drive, there are several car rental companies available at the airport.
The journey from the airport to your villa will depend on its location, but it usually takes around 30 minutes to an hour.
Make sure to have the address of your villa handy for the taxi or GPS navigation system.
Once you arrive at your villa, check – in with the property management team or owner.
They will provide you with all the necessary information and keys to access your private villa and pool.