Are you daydreaming about an adventure to Gran Canaria and curious about what gems await in the historic town of Arucas? I know I was! And trust me, it doesn't disappoint – with its alluring charm and multitude of attractions ranging from architectural marvels to untouched natural beauty.
In this article, I'm excited to share a detailed guide on everything – from must-see spots to local customs that will ensure your visit is filled with unique and enriching experiences.
Buckle up for a thrilling journey through Arucas!
Top Attractions in Arucas
Arucas boasts a number of top attractions that are sure to captivate visitors, including the Museo Del Plátano Gran Canaria, Arehucas Rum Distillery, Iglesia de San Juan Bautista, Jardines de la Marquesa, and Parroquia de San Juan Bautista.
Museo Del Plátano Gran Canaria
At the Museo Del Plátano Gran Canaria, you will find yourself in a world of bananas! The entire tour is fun and filled with interesting facts about this tropical fruit. There are displays of old tools used in banana farming.
If you're lucky, they even let you taste the sweetest bananas grown right here in Arucas! Don't miss out on the chance to buy some banana-themed gifts from their shop before leaving.
Arehucas Rum Distillery
Arehucas Rum Distillery is a fun place to visit in Arucas. I loved learning about how they make rum here. They let you see all the steps of making this tasty drink. You also get to try many kinds of rum made at Arehucas.
This distillery has been around for more than 100 years! It's one of the oldest ones in Europe. So, it's not just about tasting good rum but also seeing some history as well. A visit here feels like stepping back in time and into the heart of Gran Canaria culture.
There's even an old barrel signed by famous visitors like Sir Cliff Richard! So, if you want to taste great rum and learn about Arucas history, Arehucas Rum Distillery is the place for you.
Iglesia de San Juan Bautista
I love the sight of Iglesia de San Juan Bautista. It is a key landmark in Arucas you shouldn't miss. This beautiful church is also known as the Arucas Cathedral. Its tall towers stand strong above the town, making it easy to find.
The inside of this church is just as stunning as the outside. Many say that its stone carvings are some of the best they've ever seen! So don't forget to pop in and take a look when exploring this historic town's sights.
Jardines de la Marquesa
One of the top attractions in Arucas is Jardines de la Marquesa, a beautiful garden located near the town center. As you explore these gardens, you'll be surrounded by colorful flowers and lush greenery.
It's a peaceful place to relax and take a leisurely stroll. The gardens also feature elegant statues and intricate fountains that add to their charm. Don't forget to bring your camera, as there are plenty of picturesque spots for capturing memorable moments.
Whether you're interested in nature or simply looking for a tranquil escape, Jardines de la Marquesa is definitely worth a visit during your time in Arucas.
Parroquia de San Juan Bautista
The Parroquia de San Juan Bautista, also known as the Church of St. John the Baptist, is a must-visit landmark in Arucas. As I entered the church, I was amazed by its impressive architecture and beautiful stained glass windows.
The intricate details and ornate decorations inside made it feel like stepping back in time. It's a peaceful place to take a moment for reflection or attend a religious service. Whether you're interested in history or religious art, the Parroquia de San Juan Bautista is definitely worth a visit during your time in Arucas!
Other Things to See and Do in Arucas
In addition to the top attractions, there are several other things to see and do in Arucas. Explore the beautiful Parque Municipal de Arucas, hike up Montaña de Arucas for breathtaking views, visit Casa de Cultura for a taste of local art and history, learn about the town's quarrying traditions at Museo La Cantera, or take in panoramic views from Mirador de Arucas.
Parque Municipal de Arucas
Parque Municipal de Arucas is a beautiful park located in the town of Arucas. It offers a peaceful and relaxing atmosphere for visitors to enjoy. The park features lush greenery, colorful flower beds, and shady pathways perfect for leisurely walks or picnics with family and friends.
There are also benches where you can sit down and take in the natural surroundings. The park is well-maintained and provides a lovely escape from the hustle and bustle of city life.
So if you're looking for some tranquility amidst nature, make sure to visit Parque Municipal de Arucas during your trip to Arucas.
Montaña de Arucas
If you're looking to enjoy some beautiful views of Arucas, make sure to visit Montaña de Arucas. This mountain provides a stunning backdrop for the town and offers panoramic vistas of the surrounding area.
You can take a leisurely hike up the mountain and admire the natural beauty of Gran Canaria. Don't forget your camera – there are plenty of photo opportunities along the way!
Casa de Cultura
The Casa de Cultura is a cultural center in Arucas that offers a variety of events and exhibitions. It is a place where you can immerse yourself in the local arts and culture scene.
Whether it's attending music concerts, art exhibits, or theater performances, there's always something happening at Casa de Cultura. This vibrant hub of creativity is a must-visit for anyone interested in experiencing the artistic side of Arucas.
So if you're looking to add some cultural flair to your visit, be sure to stop by Casa de Cultura and see what they have to offer!
Museo La Cantera
The Museo La Cantera is another interesting place to visit in Arucas. This museum showcases the rich history and heritage of the town, with exhibits highlighting its stone quarrying industry.
You can learn about the traditional techniques used to extract and work with stone, as well as see examples of beautifully carved sculptures and architectural elements made from local stone.
The museum also provides insights into the lives of the quarry workers through photographs, tools, and personal stories. It's a great opportunity to delve deeper into Arucas's unique past and appreciate its cultural significance.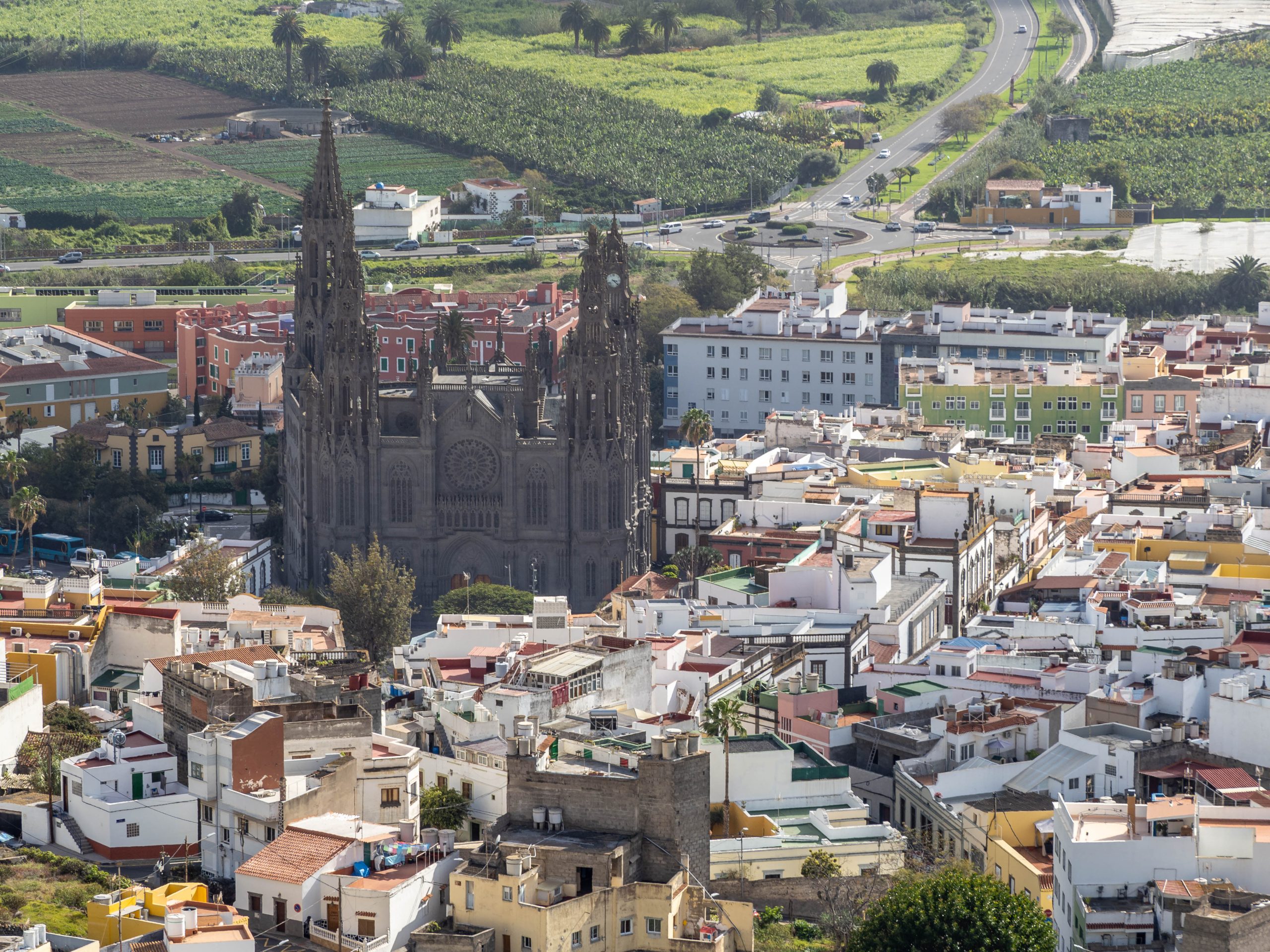 Mirador de Arucas
From the Mirador de Arucas, you can enjoy stunning panoramic views of the town and its surroundings. It is a popular spot for tourists who want to take in the beauty of Arucas from above.
The viewpoint offers breathtaking vistas of the historic buildings, lush landscapes, and even glimpses of the ocean. It's a great place to capture memorable photos and appreciate the natural beauty of this charming town.
Don't forget to bring your camera!
How to Get to Arucas
To get to Arucas, you can take a bus from Las Palmas de Gran Canaria, which is the capital city of the island. There are regular bus services that run between Las Palmas and Arucas, making it convenient for travelers to reach this historic town.
Additionally, if you're driving to Arucas, there are parking options available in the town center.
Bus transportation
To explore Arucas, you can rely on the bus transportation system. Buses are a convenient and affordable way to get around the town and visit its various attractions. Whether you're staying in the historic center or near the beach, there are bus routes that connect different parts of Arucas.
The buses are well-maintained and offer regular schedules, making it easy for tourists to plan their trips. Simply check the bus timetables at your hotel or at designated stops to catch a ride to places like Plaza de San Juan or Arucas Park.
Enjoy the ease and comfort of exploring Arucas by bus!
Parking options
There are several parking options available in Arucas for tourists. You can find both street parking and public parking lots throughout the town. It is important to note that some areas may have time restrictions or require payment, so be sure to check signs and instructions before leaving your vehicle.
Additionally, if you prefer not to drive, there are also bus transportation options available in Arucas, making it easy for you to explore the town without worrying about parking.
Best Time to Visit Arucas
The best time to visit Arucas is during the spring and autumn months when the weather is mild and pleasant.
– Spring (March to May) offers comfortable temperatures ranging from 17°C to 24°C. It's a great time to explore the outdoor attractions, such as Arucas Park or enjoy a leisurely stroll in the Old Town.
– Autumn (September to November) is another ideal season with temperatures averaging between 20°C and 26°C. This time of year allows for pleasant beach visits and outdoor activities.
In these seasons, you can avoid the summer crowds and high temperatures, making it easier to fully enjoy all that Arucas has to offer.
Recommended Duration of Stay in Arucas
I think spending a few days in Arucas would be ideal to fully explore all the attractions and experience the local culture. Here are some reasons why you should consider staying for at least a couple of days in Arucas:.
– There are so many things to see and do in Arucas, including visiting top attractions like the Museo Del Plátano Gran Canaria and Arehucas Rum Distillery.
– Exploring the historic center of town, with its charming pedestrian streets and beautiful architecture, takes time.
– Enjoying leisurely walks in places like Jardines de la Marquesa or Parque Municipal de Arucas is best done without feeling rushed.
– Trying out traditional cuisine at local restaurants and experiencing the vibrant nightlife can be spread out over a few evenings.
– If you want to take day trips to nearby destinations like Tejeda or Las Palmas, having extra days in your itinerary will give you more flexibility.
Overall, I believe that staying in Arucas for at least 2 or 3 nights would allow you to truly immerse yourself in this lovely town and make the most of your visit.
Practical Information and Tips
Discover the best places to eat, stay, and immerse yourself in local customs and etiquette during your visit to Arucas. Plus, find out how to make the most of your time with tips on transportation and parking options.
Places to eat
When visiting Arucas, you'll find a variety of dining options to satisfy your taste buds. Here are some recommended places to eat in the town:
Restaurante El Parque – Enjoy traditional Canarian cuisine in a charming setting overlooking Arucas Park.
La Tasquita de Nino – Indulge in tapas and local dishes made with fresh ingredients at this cozy restaurant.
Casa Brito – This family-run restaurant offers a mix of Spanish and international dishes, including seafood and grilled meats.
Café El Corral – Grab a quick bite or enjoy a leisurely meal at this café known for its delicious sandwiches and pastries.
Restaurante La Granja – Experience fine dining with a modern twist at this restaurant, which specializes in creative seafood dishes.
Places to stay
If you're planning a visit to Arucas, there are several great places to stay in the town. Here are some options for accommodations:
Hotel Emblemático Arucas: This charming hotel is located in the heart of Arucas, offering traditional Canarian architecture and comfortable rooms.
Hotel Rural Las Calas: Situated in a rural setting just outside of Arucas, this hotel provides a peaceful retreat with beautiful views of the surrounding countryside.
Casa Rural La Herrería: This cozy bed and breakfast is housed in a restored 19th-century blacksmith's workshop, providing a unique and historic atmosphere.
Hostal Arucas: For budget travelers, this guesthouse offers affordable rooms with basic amenities and a convenient location near the town center.
Airbnb rentals: Alternatively, you can find various private apartments and houses available for rent through Airbnb, allowing you to have your own space during your stay in Arucas.
Local customs and etiquette
In Arucas, it's important to respect the local customs and etiquette. One common custom is greeting people with a handshake or a kiss on both cheeks as a sign of politeness. It's also customary to say "buenos días" (good morning), "buenas tardes" (good afternoon), or "buenas noches" (good evening) when entering shops, restaurants, or other establishments.
When dining in Arucas, it's polite to wait for the host to start eating before you begin your meal. Additionally, it's considered respectful to speak softly and avoid being too loud in public places.
Remember to always be courteous and respectful towards locals during your visit in Arucas!
Day Trips from Arucas
Explore the charming village of Tejeda, known for its stunning mountain scenery and picturesque streets.
Tejeda
Tejeda is a picturesque village that you definitely don't want to miss during your trip to Arucas. Located in the heart of Gran Canaria, Tejeda offers breathtaking views of the island's rugged mountains and valleys.
One of the highlights here is Roque Nublo, a famous rock formation that towers over the landscape. You can hike up to this iconic landmark and enjoy panoramic views of the surrounding countryside.
Don't forget to explore the charming streets lined with traditional houses and admire the beautiful architecture. Tejeda is also known for its delicious almond treats, so be sure to taste some local delicacies while you're here!
Las Palmas
Las Palmas is another great destination to explore during your visit to Arucas. It is the capital city of Gran Canaria and offers a wide range of attractions and activities. One of the highlights is the beautiful Las Canteras Beach, which stretches for miles along the coastline and provides opportunities for sunbathing, swimming, and water sports.
The Vegueta neighborhood is also worth a visit, with its charming colonial architecture and historical landmarks like Casa de Colón (Columbus House) and Santa Ana Cathedral. Don't forget to wander around Triana Street, where you can find shops, cafes, and local markets.
What Travelers Are Saying About Arucas
Travelers have been raving about their experiences in Arucas. They love the historic charm of this town and its beautiful architecture. Many visitors highly recommend exploring the Plaza de San Juan, where they can admire the stunning Arucas cathedral, also known as the San Juan Bautista Church.
The Arehucas Rum Distillery is another favorite among tourists, who enjoy learning about rum production and sampling different varieties. Travelers also enjoy wandering through the Old Town's pedestrian streets, soaking up the charming atmosphere.
They appreciate the green spaces like Arucas Park for picnics or leisurely walks. Visitors are also pleased with the variety of beaches in Arucas, such as Playa de Puertillo and San Andrés Beach.
Overall, travelers find Arucas to be a delightful destination with its rich history and cultural offerings.