Isn't it exciting to dream about immersing yourself in the lively festival scene of Gran Canaria, but feel a little overwhelmed on where to start? Trust me, I completely understand…
After spending ample time exploring this Canary Island gem, I've managed to unearth its vibrant event calendar. In this blog post, we'll navigate together through all the amazing festivals that Gran Canaria has scheduled for this month – from traditional festivities like La Rama fest to vivacious carnivals such as Las Palmas de Gran Canaria Carnival.
Let's dive right in and uncover what makes these celebrations so incredibly unique!
Popular Festivals in Gran Canaria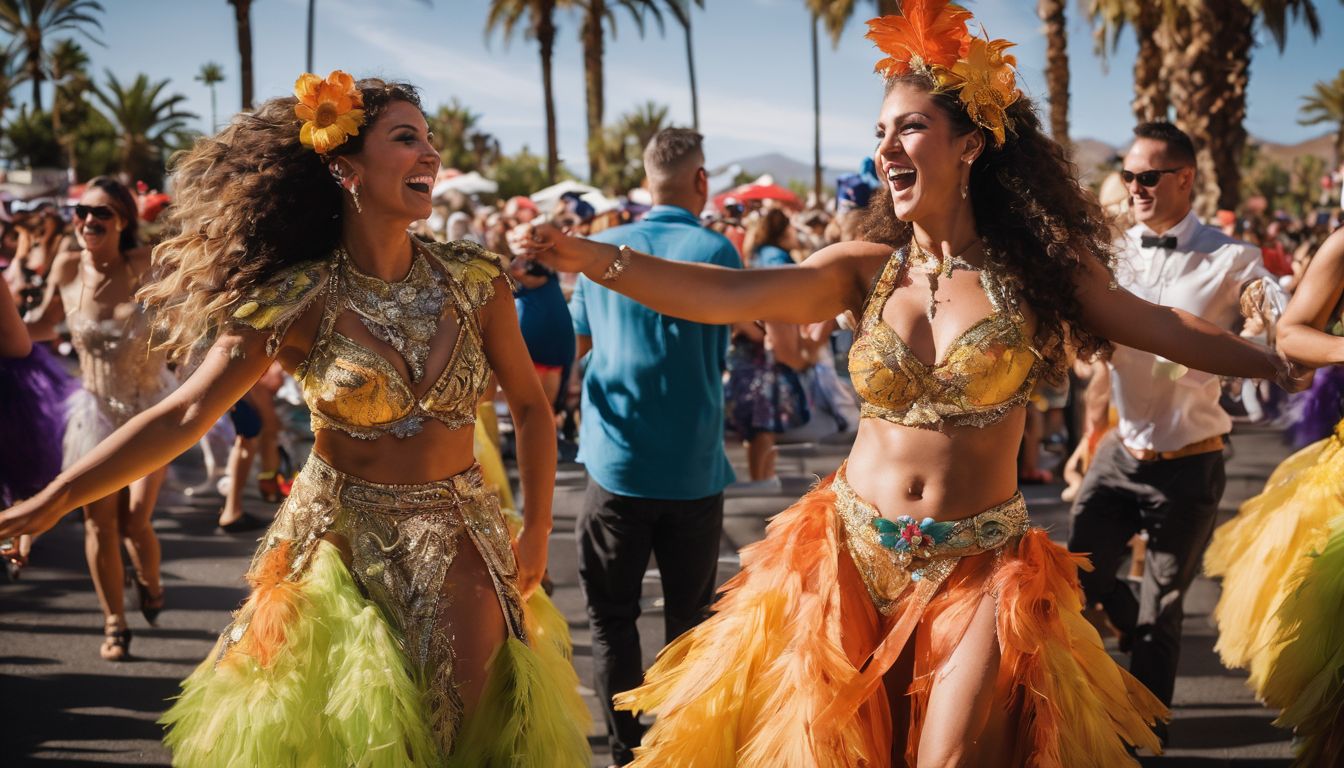 Gran Canaria is home to a variety of popular festivals, including the colorful Fiesta de La Rama and the lively Maspalomas Carnival.
Fiesta de La Rama (La Rama fest)
La Rama fest is a big deal on Gran Canaria. It happens in Agaete every year on August 4th. This party ties people to an old tale about water gods. People grab tree branches and dance through the streets all day! They then throw these branches into the sea.
The hope is that this act will please the water gods and bring rain to help crops grow well. It's like nothing you've seen before, with music, fun, and lots of smiles around!
La Traída del Agua or Water Fest
Water Fest is fun! You will see people laugh and play. This event takes place every July in Lomo Magullo. It's a small town near Telde, Gran Canaria. People from all around come to take part.
They throw water at each other, dive into pools, and run under fountains in the streets. Kids love it; they have so much fun on this day! The noise of laughter fills the air. Bands also play great music for all to enjoy during Water Fest.
La "Vará del Pescao"
La "Vará del Pescao" is a fun fest in Gran Canaria. It's all about fish! People gather at the harbor to pull in big nets full of fish. Kids and adults take part in this cool event.
You can watch or join in the action. The sea air, the smiling faces and the taste of fresh fish will make your day great! Don't miss La "Vará del Pescao". It's a key part of our island life and celebrations.
El Pino festivity
El Pino festivity is a traditional celebration in Gran Canaria that honors the island's patron saint, Our Lady of El Pino. This festival takes place on September 7th every year in Teror.
The highlight of the event is a religious procession where the statue of Our Lady of El Pino is carried through the streets accompanied by music and joyful singing. It is a significant cultural event for locals and visitors alike, providing an opportunity to experience traditional Canarian customs and witness their deep devotion to their patron saint.
During this time, you can also explore the charming town of Teror, known for its beautiful architecture and historical significance.
El Charco fest
One festival that you won't want to miss in Gran Canaria is El Charco fest. It's a traditional celebration held in the town of La Aldea de San Nicolás. During this festival, locals and visitors gather near a large natural pool called "El Charco" to enjoy live music, dancing, and delicious local food.
You can also participate in the famous swimming race across the pool or watch others compete while cheering them on. El Charco fest is a fantastic opportunity to experience the vibrant culture of Gran Canaria and have fun with the friendly locals.
El Perro Maldito
El Perro Maldito is a unique festival in Gran Canaria that takes place on July 22nd, 2023. It is known for its vibrant and exciting atmosphere, attracting both locals and tourists.
During this festival, people gather to watch as individuals dressed in elaborate costumes dance through the streets with their dogs by their side. The event celebrates the bond between humans and animals, and it showcases beautiful displays of choreography and creativity.
It's a fantastic opportunity to immerse yourself in local culture while enjoying an unforgettable spectacle. So if you're visiting Gran Canaria this month, don't miss the chance to experience El Perro Maldito!
Bajada del Gofio
One of the traditional festivals in Gran Canaria is the Bajada del Gofio. It is a celebration that honors the island's farming roots and pays homage to gofio, a popular local food made from roasted maize or wheat.
During this festival, locals dress up in traditional costumes and carry sacks of gofio on their shoulders, parading through the streets of various towns. The procession is accompanied by lively music and dancing, creating a festive atmosphere for everyone to enjoy.
It's a wonderful opportunity to immerse yourself in the island's rich cultural heritage and experience authentic Canarian traditions firsthand.
Almond blossom Gran Canaria
The Almond Blossom Festival is a popular event in Gran Canaria that celebrates the beautiful blooming almond trees. It usually takes place in late January or early February when the island's countryside is adorned with delicate pink and white blossoms.
This festival offers visitors the opportunity to admire the stunning landscapes, enjoy traditional music and dance performances, and taste delicious local almond products such as marzipan and almond liqueur.
It's a perfect time to explore nature, take scenic walks through almond fields, and capture breathtaking photographs of this natural spectacle. Don't miss out on this enchanting celebration of Gran Canaria's natural beauty!
Las Palmas de Gran Canaria Founding Festivals
Las Palmas de Gran Canaria is a city that loves to celebrate its history and culture. Every year, the city holds several festivals to commemorate its founding. These festivals are lively and colorful, filled with music, dance, and traditional customs.
One of the most important founding festivals in Las Palmas de Gran Canaria is the Dia de los Reyes Magos or Day of The Three Wise Men celebrated on January 6th. This festival marks the arrival of the three kings to Bethlehem and is filled with parades, floats, and children receiving gifts.
Another significant event is the Carnival in Las Palmas de Gran Canaria, which dates back centuries and showcases vibrant costumes, street parties, music performances, and a grand parade called "La Gala Drag Queen." These festivals truly showcase the rich history and traditions of Las Palmas de Gran Canaria.
WOMAD
WOMAD is an exciting international music festival that takes place in Gran Canaria. It features a diverse lineup of artists from around the world, showcasing different genres and cultural traditions.
As a tourist, attending WOMAD is a fantastic way to immerse yourself in the vibrant and eclectic music scene of the island. The festival creates a lively atmosphere where people come together to enjoy performances, dance to catchy beats, and celebrate diversity through music.
With its energetic ambiance and global talent, WOMAD offers a unique experience that should not be missed during your visit to Gran Canaria.
Gran Canaria Carnival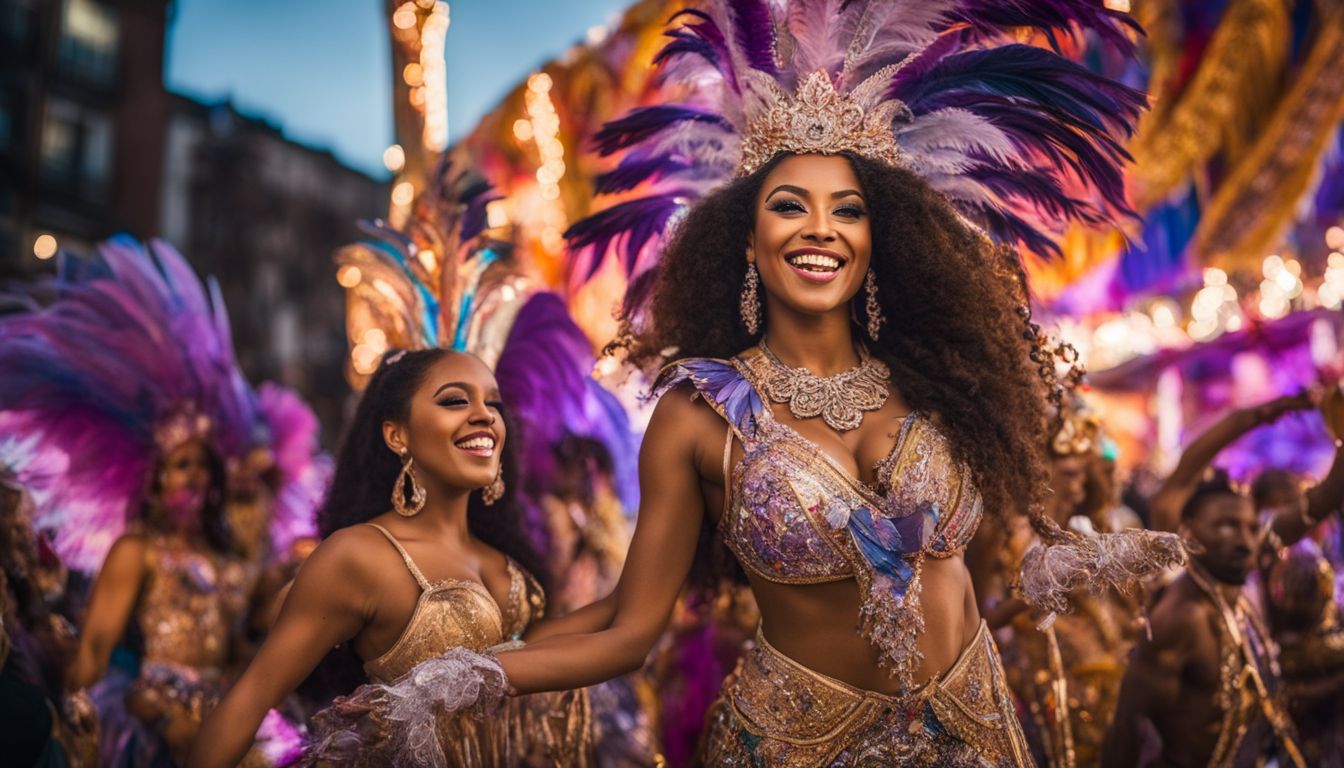 Experience the vibrant and lively Gran Canaria Carnival in Las Palmas de Gran Canaria and Maspalomas – a celebration filled with colorful parades, elaborate costumes, live music, dancing, and non-stop partying.
Don't miss out on this incredible cultural extravaganza!
Las Palmas de Gran Canaria & Maspalomas
Las Palmas de Gran Canaria and Maspalomas are two popular destinations in Gran Canaria that offer a vibrant and exciting carnival experience. The carnival celebrations in Las Palmas de Gran Canaria are known for their traditional and lively atmosphere, attracting both locals and visitors.
The streets come alive with colorful parades, music, dancing, and elaborate costumes. Maspalomas also hosts its own carnival, featuring unique events such as drag queen contests and street parties.
These carnivals provide an opportunity to immerse yourself in the local culture, enjoy the festivities, and create unforgettable memories. So if you're looking for a fun-filled celebration during your visit to Gran Canaria, make sure to check out Las Palmas de Gran Canaria and Maspalomas!
Other Festivals and Events in Gran Canaria
Gran Canaria offers a wide range of festivals and events throughout the year, including the lively Gay Pride Maspalomas celebration.
Gay Pride Maspalomas
Gay Pride Maspalomas is one of the most popular LGBT festivals in Europe and a must-visit event on Gran Canaria. This colorful celebration takes place in May every year, attracting thousands of visitors from all over the world.
The festival features vibrant parades, live performances, parties, and cultural activities that promote inclusivity and acceptance. It's a chance to embrace diversity, show support for the LGBTQ+ community, and have an unforgettable time in a welcoming and festive atmosphere.
With its beautiful beaches and lively nightlife scene, Gran Canaria is known as a top destination for LGBT travelers, making Gay Pride Maspalomas an exciting highlight to experience during your visit to this vibrant island paradise.
Guidelines for Attending Festivals
When attending festivals in Gran Canaria, it is important to prioritize safety by being aware of your surroundings and following any guidelines provided by event organizers. Additionally, remember to dress comfortably for the weather and follow any dress codes that may be in place at certain events.
Safety
When attending festivals in Gran Canaria, it's important to prioritize your safety. Ensure that you stay hydrated by drinking plenty of water throughout the day and apply sunscreen to protect yourself from the sun's strong rays.
Keep an eye on your belongings at all times and be mindful of pickpockets in crowded areas. It's also a good idea to have a designated meeting point in case you become separated from your group.
If you plan on consuming alcohol, do so responsibly and know your limits. Lastly, familiarize yourself with the festival grounds and emergency exits so that you can easily navigate in case of any unforeseen circumstances.
Dress code
For festivals in Gran Canaria, the dress code is usually casual and comfortable. Since most of the festivals take place outdoors, it's best to wear light and breathable clothing. You may want to consider wearing a hat or sunscreen to protect yourself from the sun.
Some festivals, like the carnival in Las Palmas de Gran Canaria, have specific themes or costumes that you can participate in if you'd like. However, there is no strict dress code for attending these events; it's more about enjoying the festivities and being comfortable while doing so.
So feel free to dress in your own personal style and enjoy the lively atmosphere of Gran Canaria's festivals!
Weather
Gran Canaria enjoys a mild and pleasant climate throughout the year, making it an ideal destination for festivals and outdoor activities. The island experiences warm summers with temperatures ranging from 25 to 30 degrees Celsius (77 to 86 degrees Fahrenheit), perfect for enjoying the vibrant festivities and beautiful beaches.
Winters are also mild, with temperatures averaging around 20 degrees Celsius (68 degrees Fahrenheit). Pack light and breathable clothing when visiting Gran Canaria, as you'll likely be spending a lot of time outdoors under the sun.
Don't forget your sunscreen and sunglasses to stay protected from the intense UV rays.
Popular Activities and Attractions in Gran Canaria
Gran Canaria offers a variety of activities and attractions for visitors to enjoy, including stunning beaches, breathtaking hiking trails, exciting theme parks, and vibrant casinos.
Beaches
Gran Canaria is known for its beautiful beaches, and there are plenty of options to choose from. Whether you're looking for a relaxing day in the sun or some exciting water sports, Gran Canaria has it all.
The island boasts over 60 kilometers of coastline with golden sand and crystal-clear waters. Some popular beaches include Playa del Inglés, Maspalomas, and Puerto de Mogán. These beaches offer a variety of amenities such as beach bars, restaurants, and water activities like jet skiing and snorkeling.
So grab your sunscreen and towel and get ready to enjoy the stunning beaches of Gran Canaria!
Hiking
Hiking is a popular activity in Gran Canaria because the island has stunning natural landscapes. There are many hiking trails that cater to different levels of difficulty and offer breathtaking views of mountains, volcanoes, and valleys.
One famous trail is the Camino de Santiago, which takes you through picturesque villages and scenic countryside. Another must-visit hike is Roque Nublo, where you can see a towering rock formation that's considered a natural landmark of Gran Canaria.
Remember to wear comfortable shoes, bring plenty of water, and be prepared for changing weather conditions when going on a hike in Gran Canaria.
Theme Parks
When visiting Gran Canaria, don't miss out on the exciting theme parks that the island has to offer. One popular theme park is Aqualand Maspalomas, where you can enjoy thrilling water slides and relax in the wave pools.
Another great option is Palmitos Park, a beautiful botanical garden with exotic animals such as dolphins, orangutans, and birds. For those who love adventure, Holiday World Maspalomas offers go-karting tracks, mini-golf courses, and amusement rides for all ages.
These theme parks provide fun-filled activities for families and friends to enjoy during their time on the island of Gran Canaria.
Casinos
If you're looking for some entertainment and excitement during your visit to Gran Canaria, the island has a few casinos that you can check out. These casinos offer a variety of games such as blackjack, roulette, and slot machines.
You can try your luck and have fun while enjoying the lively atmosphere. Some popular casinos on the island include Casino Las Palmas in Las Palmas de Gran Canaria and Gran Casino Costa Meloneras in Maspalomas.
Remember to gamble responsibly and set a budget for yourself before entering the casino.
Culinary Experiences
Indulge in the local flavors of Gran Canaria with delicious tapas, exquisite wines, mouthwatering seafood, and traditional dishes that will tantalize your taste buds.
Tapas
When visiting Gran Canaria, one culinary experience you must try is tapas. Tapas are small plates of food that are often served with drinks at bars and restaurants. They're a popular way to sample different flavors and dishes in one sitting.
You can find a variety of tapas options, including seafood, meats, cheeses, and vegetables. Some local favorites include papas arrugadas (wrinkled potatoes), croquettes, gambas al ajillo (garlic shrimp), and patatas bravas (spicy potatoes).
It's common to order several tapas dishes to share with friends or family while enjoying a drink or two. So make sure to indulge in the delicious world of tapas during your visit to Gran Canaria!
Wine
Gran Canaria is not just famous for its beautiful beaches and vibrant festivals, but also for its excellent wine. The island has a long tradition of winemaking, thanks to its unique climate and fertile volcanic soil.
When visiting Gran Canaria, I highly recommend trying the local wines, especially the ones made from grapes grown in the regions of Santa Brígida and Los Bermejales. These wines have a distinct flavor that reflects the terroir of the island.
Whether you prefer red or white wine, there are plenty of options to suit your taste buds. Don't miss out on this opportunity to indulge in some delicious and authentic Canarian wine during your visit to Gran Canaria!
Local Dishes
When it comes to culinary experiences, Gran Canaria offers a variety of delightful local dishes. One must-try dish is the traditional tapas, which are small plates of savory snacks like olives, cheese, and ham.
Another highlight is the fresh seafood that can be found in abundance on the island, including delicious prawns, octopus, and fish. Don't forget to pair your meal with some local wine from one of the vineyards on the island.
The combination of flavors will surely tantalize your taste buds and give you a true taste of Gran Canaria's gastronomy.
Seafood
When it comes to culinary experiences in Gran Canaria, seafood is a must-try. Being an island, Gran Canaria offers an abundance of fresh and delicious seafood options. You can indulge in grilled fish, succulent prawns, flavorful octopus, and mouthwatering lobster dishes.
Some popular local seafood dishes include "papas arrugadas" with mojo sauce (wrinkled potatoes), "caldo de pescado" (fish soup), and "paella de mariscos" (seafood paella). The coastal towns like Las Palmas de Gran Canaria and Puerto de Mogán are known for their excellent seafood restaurants where you can savor the authentic flavors of the sea.
Don't miss the opportunity to try the catch of the day while exploring the island's vibrant food scene.
Accommodations
There are plenty of accommodation options in Gran Canaria, including hotels, hostels, resorts, and Airbnb rentals. Whether you're looking for luxury or budget-friendly choices, you'll find the perfect place to stay during your festival-filled trip.
Read on to discover the best festivals in Gran Canaria this month!
Hotels
When visiting Gran Canaria, tourists have a variety of options for accommodations. There are hotels, hostels, resorts, and even Airbnb rentals available. The island offers something for every budget and preference.
Whether you're looking for a luxurious resort with all-inclusive amenities or a cozy hostel with a communal atmosphere, you can find it here. Many hotels on the island offer stunning ocean views and easy access to the beach.
Some popular areas to stay include Las Palmas de Gran Canaria and Maspalomas. It's best to book your accommodation in advance, especially during peak festival seasons like carnival or when major events are happening on the island.
Hostels
When visiting Gran Canaria, there are various accommodation options to consider. One affordable option is staying in hostels. Hostels provide budget-friendly accommodations for travelers who are looking for a place to sleep and socialize with other like-minded individuals.
They often offer dormitory-style rooms with shared facilities such as bathrooms and common areas. Some hostels even have private rooms available for those who prefer more privacy. Staying in a hostel can be a great way to meet fellow travelers from around the world and exchange travel tips and stories.
Plus, many hostels also organize social activities and events, making it easier to connect with other guests.
Resorts
In Gran Canaria, there are many resorts where tourists can stay and relax during their visit to the island. These resorts offer a range of amenities and services to make your stay comfortable and enjoyable.
From luxurious beachfront properties to budget-friendly options, there is something for every type of traveler. Some popular resorts include those in Maspalomas and Las Palmas de Gran Canaria.
Whether you're looking for a family-friendly resort with pools and entertainment or a romantic getaway with stunning views, you'll find it on Gran Canaria. The official Gran Canaria tourist website provides information on different resorts available on the island, helping you choose the one that suits your preferences and budget best.
Airbnb
I love using Airbnb when I travel to Gran Canaria. It's a great option for finding accommodations that suit my budget and preferences. Whether I want to stay in a cozy apartment near the beach or a stylish villa with stunning views, Airbnb has plenty of options to choose from.
Plus, staying in an Airbnb allows me to experience the local culture and hospitality firsthand. The hosts are often friendly and helpful, providing tips on the best places to eat, explore, and enjoy festivals on the island.
From luxurious villas to trendy apartments, Airbnb offers a wide range of accommodations that make my stay in Gran Canaria even more enjoyable.
Transportation
To get around Gran Canaria, there are various transportation options available such as car rentals, taxis, and public transportation.
Car rentals
When visiting Gran Canaria, renting a car is a convenient option to explore the island at your own pace. There are several car rental companies available that offer a variety of vehicles to suit your needs.
It's important to note that in Gran Canaria, driving is on the right side of the road and seat belts should be worn at all times. Additionally, make sure to have valid driver's license and insurance before renting a car.
By having a rental car, you'll have the freedom to easily visit different festivals, attractions, and explore hidden gems across the island without relying on public transportation or taxis.
Taxis
Transportation is an important aspect to consider when attending festivals in Gran Canaria. Taxis are a convenient and reliable mode of transportation on the island. They are readily available at taxi stands throughout popular tourist areas.
It's important to note that taxis in Gran Canaria are white with a green stripe, and they have a "TAXI" sign on top. The fares are calculated using a taximeter, which includes both the distance traveled and any waiting time.
It's always a good idea to ask for an estimate before starting your journey, as some drivers may try to overcharge tourists. Additionally, it's recommended to carry small bills or change for payment, as not all taxis accept credit cards.
Public transportation
When visiting Gran Canaria, it's important to know about the public transportation options available. The island has a reliable and extensive bus network that connects different parts of the island, including popular tourist areas.
Buses are an affordable way to get around and explore the various festivals and events happening on Gran Canaria. Another option is taxis, which are readily available and can be hailed on the street or found at designated taxi stands.
Car rentals are also popular among tourists who want more flexibility in their travel plans. However, it's worth noting that parking can be limited in some areas. Overall, public transportation in Gran Canaria provides convenient and efficient ways to navigate the island during your visit.