Have you ever caught yourself daydreaming about a trip to Maspalomas in Gran Canaria, yet feeling unsure if it's the ideal spot for your adventure? Well, you're not alone. I've walked that path of uncertainty too.
After diving deep into information gathering and then living out my own wonderful experiences, I can affirm that this slice of heaven within the Canary Islands truly delivers with its breathtaking landscapes and striking beaches.
So why don't we journey together through the wonders that make Maspalomas an absolutely unforgettable getaway destination? Let's fasten our invisible travel belts!
Overview of Maspalomas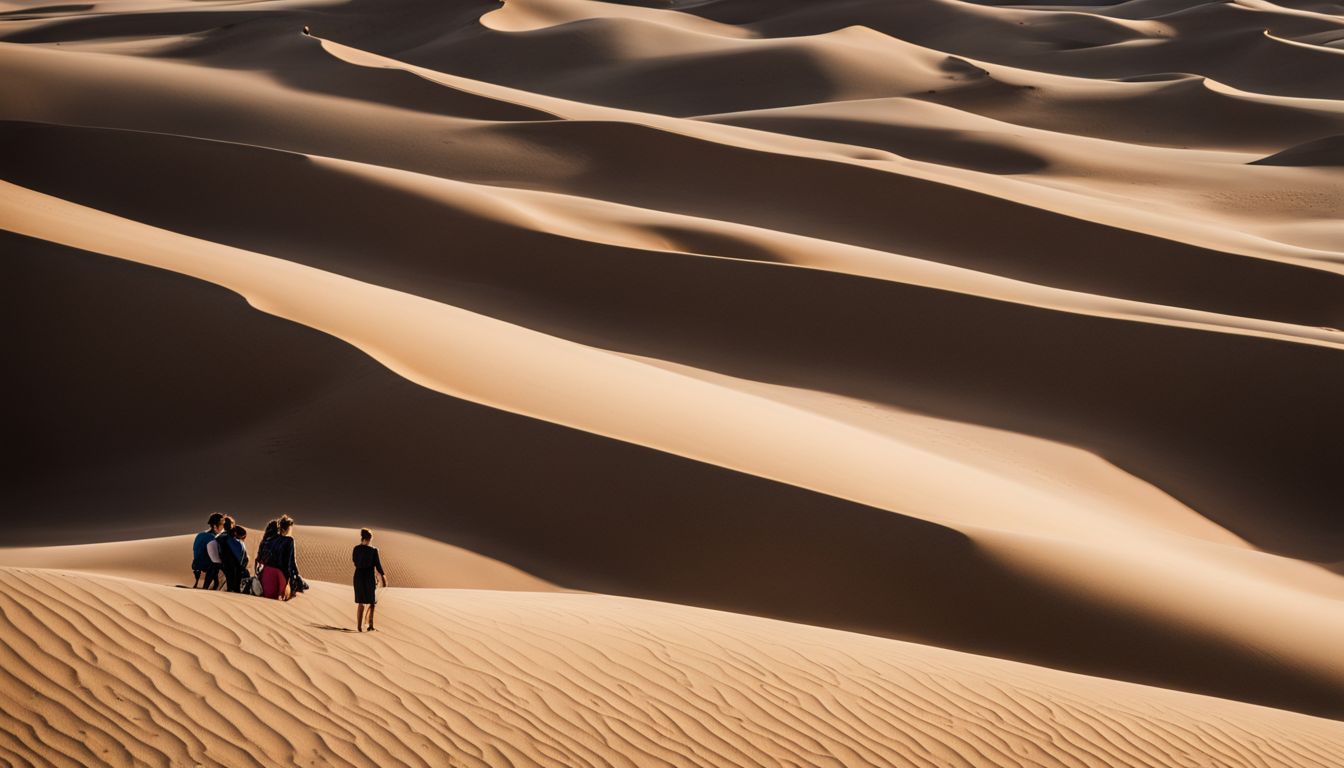 With its beautiful sandy beaches and stunning sand dunes, Maspalomas in Gran Canaria is a popular tourist destination. As someone who loves going on vacation to relax by the beach, I've often wondered if Maspalomas is as nice as it looks in pictures. After conducting extensive research and visiting the area myself, I can assure you that Maspalomas is indeed a wonderful place to visit. From its diverse attractions to its comfortable accommodation options, there is something for everyone in this Canary Island paradise. So let's dive into all the reasons why Maspalomas Gran Canaria is definitely worth a visit!
Holiday resort
Maspalomas is a fun holiday spot. There are many hotels and resorts to stay in. Some places are near the beach, others close to the city center. The resort has a cool nature preserve.
A lot of people come here for the nude beach too! For food, you can go to bars and restaurants by the seaside. They make yummy local dishes that you must try! Would you like some desert fun? Visit our famous sand dunes, they're beautiful! It's never boring at Maspalomas because there's also night-time fun for everyone.
Beautiful 6 km coastline
Maspalomas greets you with a 6 km stretch of sun-soaked sand. This beautiful coastline is the jewel of Gran Canaria. It shines bright with crystal clear waters and sandy beaches that are just perfect for play.
You can build sand castles, have fun swimming or just lie down for a nice sunbath.
There is more! The beach stretches all the way to Playa del Inglés. You will love walking along this pretty path as you see the stunning sand dunes on one side and open sea on the other.
Bars and restaurants line up by the beach for when you feel hungry or thirsty. The Maspalomas coast is a real treat for your eyes!
Popular Attractions in Maspalomas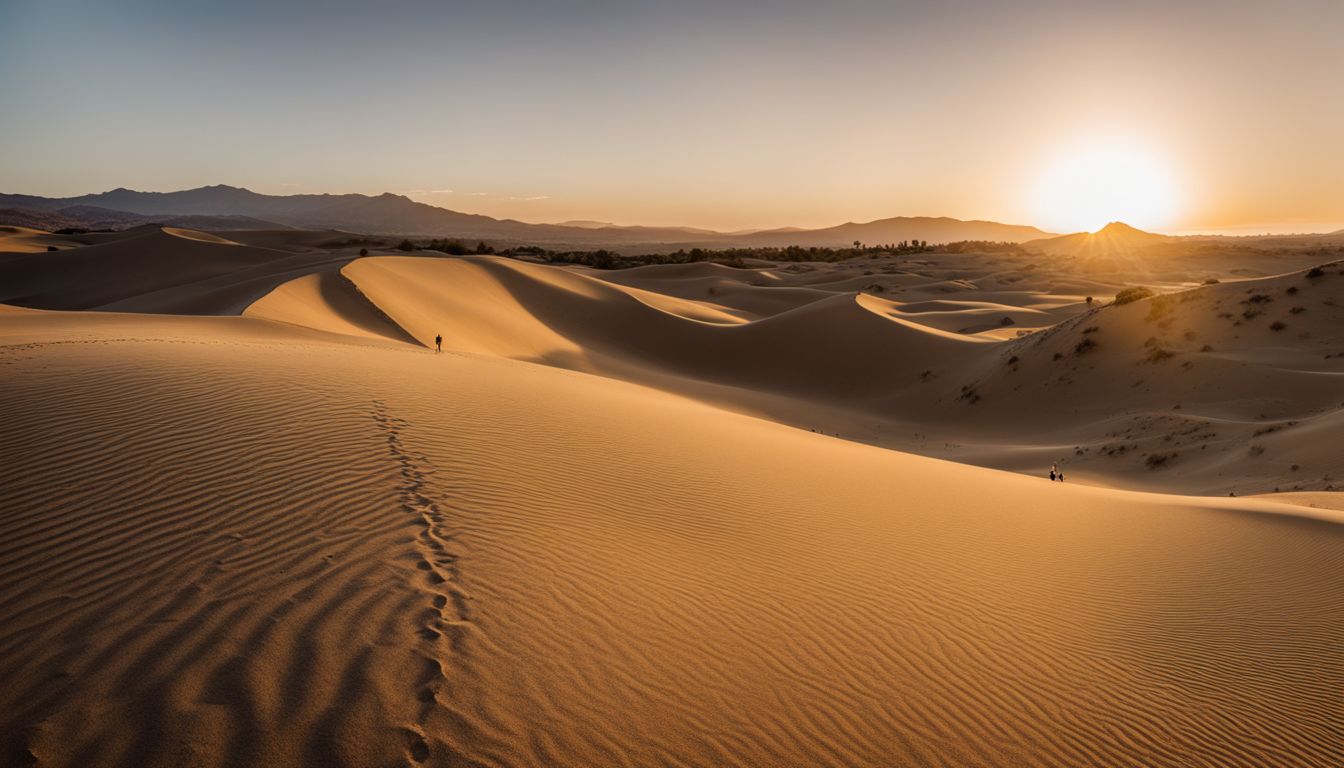 There are several popular attractions in Maspalomas, including the stunning sand dunes by the lighthouse, the beautiful beach, and the iconic lighthouse itself.
Dunes by the Lighthouse
The dunes by the lighthouse in Maspalomas are a must-see. They look like a desert. You would not think you were on an island! The sand is so soft and warm. It's fun to hike up the dunes.
But be careful, it can get quite hot during the day. From the top of some dunes, you can see the lighthouse. It looks out over clear blue water. You also have a great view of all of Maspalomas from these spots! One more thing – don't forget your camera! The sights here are something you will want to remember for sure.
Beach
The beach in Maspalomas is absolutely lovely. It stretches for a mile and a half, making it the second-longest beach on Gran Canaria. The sand there is really nice too, perfect for sunbathing and enjoying the beach.
You can also rent parasols at a reasonable price if you want some shade. There are even beachside bars and restaurants where you can relax and have a good time. Oh, and if you're interested, there's also a nudist beach in Maspalomas for a unique experience! So whether you want to soak up the sun or take a stroll along the shore, Maspalomas Beach has got you covered.
Lighthouse
The lighthouse in Maspalomas is a must-see attraction. It stands tall and proud, offering stunning views of the surrounding area. The lighthouse is located near the beautiful sand dunes, creating a picturesque setting that you won't want to miss.
You can climb to the top of the lighthouse for an even better view or simply admire it from below. Whether you're interested in history or just want to capture some amazing photos, visiting the lighthouse in Maspalomas is definitely worth it.
Lighthouse fact: The Maspalomas lighthouse has been guiding ships since 1890 and is still operational today!
Palmitos Park
Palmitos Park is a must-visit attraction in Maspalomas, Gran Canaria. This beautiful park is home to over 1,500 different species of exotic plants and animals. You can walk through lush botanical gardens, see colorful birds in the aviary, and even watch dolphins perform amazing tricks in the dolphin show.
There are also interesting animal exhibits where you can learn about reptiles, butterflies, and more. Palmitos Park offers a unique opportunity to get up close with nature and have an educational yet fun experience.
Holiday World Maspalomas
In Maspalomas, there's a fantastic place called Holiday World that you've got to check out. It's a fun-filled amusement park with lots of thrilling rides and games. You can feel the excitement as soon as you walk in.
There are roller coasters for the thrill-seekers, bumper cars for those who love a good bump, and even a Ferris wheel for a scenic view of the area. And if you're feeling lucky, there's also an arcade where you can try your hand at winning prizes.
It's definitely one of the must-visit attractions in Maspalomas!
Yumbo Centre
The Yumbo Centre is a popular attraction in Maspalomas, Gran Canaria. It's a vibrant shopping and entertainment complex that offers a variety of shops, restaurants, bars, and clubs.
The center is known for its lively atmosphere and diverse mix of international cuisine. Visitors can enjoy shopping for souvenirs or indulging in delicious food from different cultures.
At night, the Yumbo Centre comes alive with music and entertainment options, making it a great place to experience the nightlife in Maspalomas.
Botanical Park
The Botanical Park in Maspalomas is a must-visit for nature lovers like me. It's a beautiful and peaceful place filled with various plants and trees, making it the perfect spot to relax and enjoy the natural beauty of the area.
The park is well-maintained, with walking paths that allow you to explore at your own pace. As you walk through the park, you'll come across different species of flora from around the world, including cacti, palm trees, and colorful flowers.
It's a great place to take some stunning photos or have a picnic surrounded by nature. I highly recommend visiting the Botanical Park during your trip to Maspalomas!
South Urban Park
South Urban Park is a popular attraction in Maspalomas, Gran Canaria. It offers a wonderful green space for visitors to relax and enjoy nature. The park has beautiful walking paths, colorful flowers, and shady areas to sit and unwind.
It's the perfect place for a picnic or a leisurely stroll. With its peaceful atmosphere, South Urban Park provides a nice contrast to the bustling beach and tourist areas of Maspalomas.
Whether you're looking for some quiet time or want to explore the natural beauty of the area, South Urban Park is definitely worth a visit during your trip to Maspalomas.
Maspalomas Golf
Maspalomas Golf is a popular attraction in Maspalomas, Gran Canaria. It offers a stunning 18-hole golf course with beautiful views of the surrounding landscape. The course is well-maintained and suitable for both experienced golfers and beginners.
The weather in Maspalomas makes it an ideal location for playing golf year-round. So, if you're a golf enthusiast or looking to try something new during your vacation, Maspalomas Golf is definitely worth checking out!
Maspalomas Carnival
The Maspalomas Carnival is a lively and colorful celebration that takes place every year in Maspalomas, Gran Canaria. It is one of the most popular events on the island, attracting both locals and tourists alike.
During the carnival, the streets come alive with vibrant parades, music, dancing, and elaborate costumes. It is a time to let loose and have fun while immersing yourself in the rich culture of the Canary Islands.
The carnival usually lasts for about ten days and features various activities such as beauty contests, live performances, fireworks displays, and street parties. It is definitely an experience not to be missed if you're visiting Maspalomas!
Sioux City Park
Sioux City Park is a fun and unique attraction in Maspalomas, Gran Canaria. It's like stepping into the Wild West! The park has mock old western-style buildings and shows that take you back in time.
You can watch cowboy gunfights, see stunt performances, and even try your hand at panning for gold. It's a great place to bring kids or just have some lighthearted fun yourself. So if you're looking for something different to do during your vacation in Maspalomas, definitely check out Sioux City Park!
Day Trip to Puerto de Mogán Market
One of the must-visit attractions in Maspalomas is the Puerto de Mogán Market. This market is a great place to explore and shop for unique souvenirs, handmade crafts, and local produce.
You can stroll through the colorful stalls and find everything from clothing to jewelry to fresh fruits and vegetables. The market takes place every Friday, so it's a perfect opportunity to immerse yourself in the lively atmosphere and experience the local culture.
Don't forget to try some delicious traditional Spanish snacks while you're there! It's a fun day trip that shouldn't be missed during your visit to Maspalomas.
Pros and Cons of Maspalomas
One of the pros of Maspalomas is its good weather, which allows for enjoyable outdoor activities and relaxation on its stunning sandy beaches. However, a con of this popular tourist destination is the presence of beach hawkers and the occasional lack of available sun beds.
Pros: Good weather, attractions, restaurants
The weather in Maspalomas is really nice, which makes it a great place to visit. You can enjoy the warm sunshine and mild temperatures throughout the year. There are also plenty of attractions to explore, like the stunning sand dunes by the lighthouse and the beautiful beach.
In addition, there are many restaurants in Maspalomas where you can try delicious local cuisine and international dishes. So, you won't be disappointed when it comes to finding places to eat.
Overall, Maspalomas offers good weather, exciting attractions, and a variety of dining options for a fantastic vacation experience.
Cons: Beach hawkers, lack of sun beds
While Maspalomas in Gran Canaria is a beautiful holiday resort with stunning sandy beaches, there are a couple of drawbacks to keep in mind. One downside is the presence of beach hawkers who may approach you to sell their goods or services.
While some tourists enjoy the convenience of purchasing items on the beach, others find it intrusive and annoying. Additionally, during peak seasons, finding sun beds on the beach can be challenging due to high demand.
This means that you might need to arrive early or consider alternative options for sunbathing. Despite these minor inconveniences, Maspalomas still offers plenty of leisure options and attractions for visitors to enjoy.
Accommodation Options
There are various accommodation options in Maspalomas, including hotels and apartments.
Hotels
There are a variety of hotels to choose from in Maspalomas. From luxury resorts to budget-friendly options, there is something for every traveler. Many hotels in the area offer amenities such as pools, restaurants, and spas, ensuring that guests have a comfortable and enjoyable stay.
Whether you're looking for a beachfront hotel or one that is closer to the town center, there are plenty of options available. With its beautiful landscapes and diverse attractions, Maspalomas is a great place to stay when visiting Gran Canaria.
Apartments
There are a variety of accommodation options available in Maspalomas, including apartments. These apartments offer a comfortable and convenient stay for tourists visiting the area.
They provide ample space and amenities to make your vacation enjoyable. Staying in an apartment allows you to have more privacy and flexibility compared to hotels. You can find apartments in different locations throughout Maspalomas, giving you the opportunity to choose one that suits your preferences.
Whether you're traveling alone or with family or friends, staying in an apartment can be a great choice for your visit to Maspalomas.
Nightlife in Maspalomas
The nightlife in Maspalomas is vibrant and exciting. Here are some of the entertainment options you can enjoy:.
– Bars and clubs: Maspalomas has a variety of bars and clubs that cater to different tastes. You can dance the night away at popular clubs like Pacha or enjoy live music at one of the many bars along the promenade.
– Shows and performances: There are several venues in Maspalomas that host entertaining shows and performances. From cabaret to comedy, you'll have plenty of options to choose from.
– Casino: If you're feeling lucky, head to the casino in Maspalomas for a night of gambling fun. Try your hand at poker, blackjack, or slot machines.
– Late-night dining: Many restaurants in Maspalomas stay open late, allowing you to indulge in delicious meals even after midnight. Whether you're craving Spanish tapas or international cuisine, you'll find something to satisfy your taste buds.
That's it! Now move on to writing about "7. Weather in Maspalomas.".
Weather in Maspalomas
The weather in Maspalomas is usually sunny and warm, perfect for a beach vacation. Here are some important facts about the weather in Maspalomas:.
– Maspalomas enjoys a mild climate all year round, with temperatures ranging between 20°C (68°F) in winter and 30°C (86°F) in summer.
– The southern tip of Gran Canaria, where Maspalomas is located, is known to be windier compared to other parts of the island.
– Despite being windier, Maspalomas also tends to be sunnier than other areas on the island, making it an ideal destination for those seeking sunshine.
– The diverse Canary Islands offer different microclimates, and Maspalomas benefits from its location on the southern coast where it receives more sunshine.
That's all you need to know about the weather in Maspalomas. So pack your sunscreen and get ready for some fun under the sun!
Maspalomas vs. Playa del Inglés
Maspalomas has windier and sunnier weather compared to Playa del Inglés, making it a popular choice for tourists seeking a diverse vacation experience on the beautiful Canary Island of Gran Canaria.
Weather
I love the weather in Maspalomas! The southern tip of Gran Canaria is windier and sunnier compared to other parts of the island. This makes it a perfect destination for those seeking warmth and sunshine.
The Canary Islands have diverse climates, but Maspalomas is known for its consistently good weather throughout the year. Whether you come in summer or winter, you can expect pleasant temperatures and plenty of sunshine.
So pack your swimsuit and sunscreen, because Maspalomas offers beach weather all year round!
Attractions
There are plenty of attractions to enjoy in Maspalomas. One of the highlights is the famous Maspalomas Dunes, which offer a stunning view and a chance to explore the unique desert-like landscape.
The beach itself is also a must-visit, stretching for a mile and a half with beautiful sand perfect for sunbathing. If you're interested in nature, there's Palmitos Park where you can see exotic plants and animals up close.
For some fun-filled entertainment, Holiday World Maspalomas offers rides and games for both adults and children. And if you're looking for vibrant nightlife, the Yumbo Centre is the place to be with its bars and clubs.
How to Get to Maspalomas
Getting to Maspalomas is easy and convenient. Here are the different ways you can reach this beautiful holiday resort on Gran Canaria:
Fly: The closest airport to Maspalomas is Gran Canaria Airport, about a 30-minute drive away. You can book a flight to this airport from various destinations in Europe.
Transfer: Once you arrive at the airport, you can take a taxi or arrange a private transfer to Maspalomas. This will ensure a smooth and hassle-free journey to your accommodation.
Bus: Another option is to take a bus from the airport to Maspalomas. There are regular bus services that connect the airport with the resort area. It's an affordable and convenient way to travel.
Car Rental: If you prefer more flexibility and independence, renting a car is a great option. You can easily rent a car at the airport and drive to Maspalomas yourself. The roads are well-maintained, making it a pleasant drive.
Ferry: If you're already on one of the other Canary Islands, such as Tenerife or Lanzarote, you can take a ferry to Gran Canaria and then make your way to Maspalomas by bus or car.