Wandering in search of the perfect villages to uncover in Gran Canaria can feel a bit overwhelming, given the sheer number of incredibly beautiful options at your disposal. Believe me, I understand how daunting it could be! After considerable exploration and research, soaking in as much charm and culture as I possibly could, one thing became clear: each village offers its own unique allure that is truly worth experiencing.
This blog post will be your virtual guide to some of Gran Canaria's most enchanting villages including Tejeda – an absolute treasure seen as one of Spain's most beautiful hideaways.
So buckle up and get ready for a spectacular adventure into the heart of this mesmerizing paradise!
The Most Beautiful Villages in Gran Canaria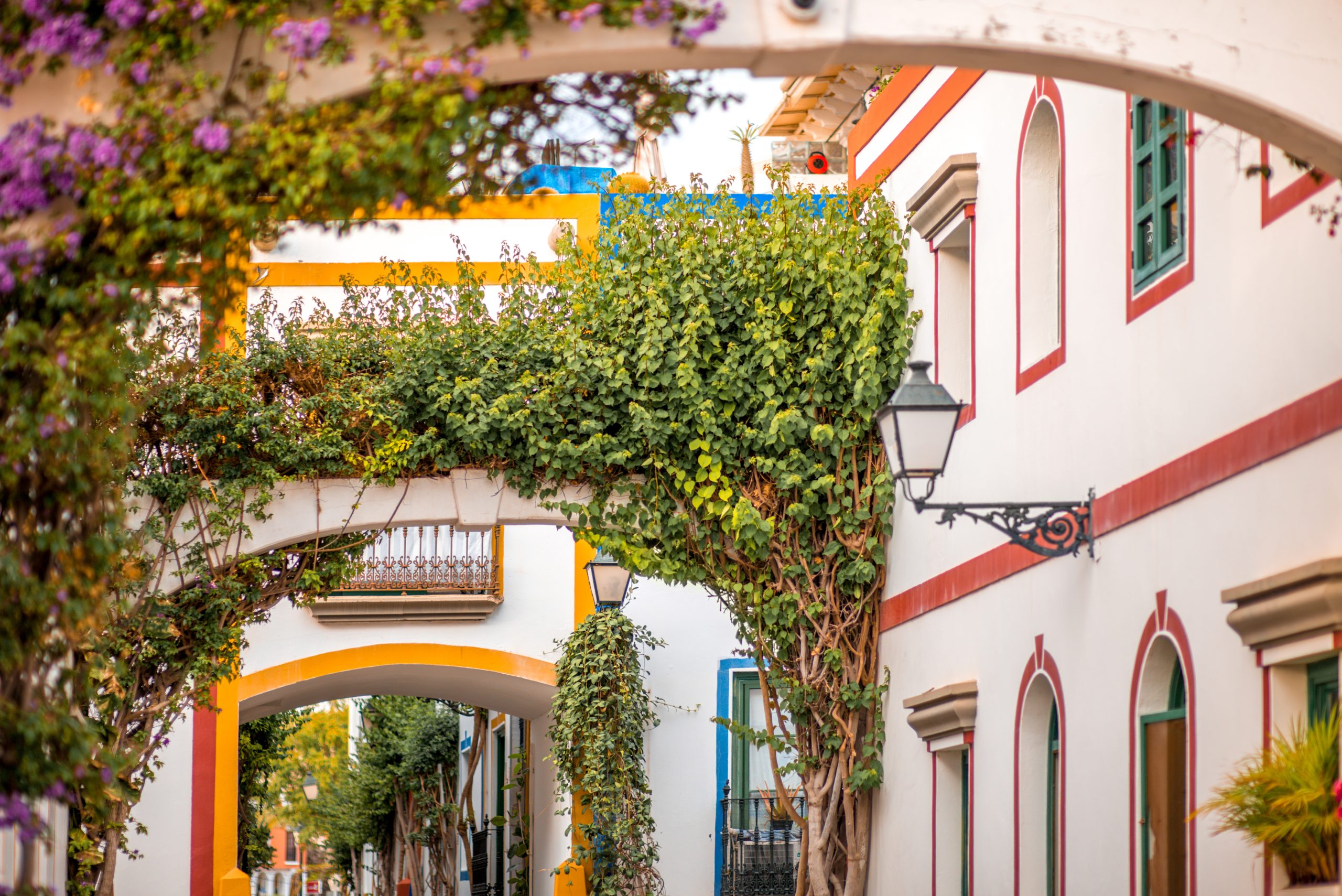 Gran Canaria is home to some of the most stunning villages, each with its own unique charm and beauty.
Tejeda
Tejeda is a real gem! It's not just a nice village in Gran Canaria, but it's also one of the most beautiful villages all over Spain. Nestled high in the mountains, Tejeda stuns with its amazing sights.
The white houses shine bright against the rugged mountain backdrop. Be sure not to miss this special place during your visit to Gran Canaria!
Agaete
Agaete and its part, Puerto de Agaete, are a treat to see. The houses are low and meet the coast just right. You will love it here. This is a place that everyone should see when they visit Gran Canaria.
The village has so much charm! There is something fun about seeing how all the houses sit near the water. This coastal gem of Gran Canaria makes you feel happy and at peace where the sea meets with cozy homes.

Teror
Teror is a must-see village on Gran Canaria! Known for its traditional Canarian houses, the town gives you a feel of the island's rich history. Stroll by old homes with wooden balconies that add charm to this scenic place.
There are many shops selling local crafts and foods. Make sure to taste their special drink, apple cider! The church in Teror is also a big draw with its beautiful design. Walk inside and see art from years ago.
This town is truly one of the most charming towns on Gran Canaria.
Arucas
Arucas is a town in Gran Canaria that features historical facades and beautiful architecture. It's known for its impressive neo-Gothic church, the Church of San Juan Bautista, which is the main attraction here.
The church's stunning interior and exterior will leave you in awe. There are also charming squares and streets to explore, offering a glimpse into the town's rich history. Arucas is definitely a place worth visiting if you appreciate architectural beauty and want to immerse yourself in the island's heritage.
Aguimes
Aguimes is a village in Gran Canaria that showcases traditional Canarian architecture and is worth a visit. Its charming streets are lined with beautiful buildings, many of which date back centuries.
As you walk through the town, you'll see stunning examples of Canarian homes and churches that showcase the unique style of the region. The town also has a rich history, with important cultural landmarks such as the Church of San Sebastián and the Barranco de Guayadeque archaeological site.
Aguimes offers visitors a glimpse into Gran Canaria's past while providing a peaceful and picturesque setting to explore.
Firgas
Firgas is a town in Gran Canaria that is known for its beautiful water features. The town is famous for its stunning waterfall and picturesque fountains, which can be found throughout the streets.
As you explore Firgas, you'll find yourself surrounded by the soothing sound of flowing water. It's a peaceful and serene place to visit, perfect for enjoying a leisurely stroll or sitting down for a moment of relaxation.
The town also offers breathtaking views of the surrounding landscapes, making it an ideal spot for photography enthusiasts. Don't miss the opportunity to see Firgas during your visit to Gran Canaria!
Artenara
Artenara is a village in Gran Canaria that offers extreme beauty and stunning panoramic views. It is considered one of the most charming villages on the island. The village sits at an altitude of 1,270 meters, making it the highest village in Gran Canaria.
From here, you can enjoy breathtaking views of the surrounding mountains and valleys. Artenara is also known for its cave houses, which are built into the rock formations and offer a unique experience for visitors.
Exploring this picturesque village will give you a true taste of the natural beauty that Gran Canaria has to offer.
Mogán
Mogán is a charming village in Gran Canaria that has gained the nickname of "little Venice." It's easy to see why, with its picturesque canals and colorful buildings. As a tourist, you'll be captivated by the scenic beauty as you stroll along the waterfront or take a boat ride through the canals.
The village offers a peaceful and idyllic atmosphere, perfect for relaxation. Soak up the sun on one of Mogán's beautiful beaches or indulge in some delicious seafood at one of its waterfront restaurants.
Don't forget to explore the narrow streets lined with shops and cafes, where you can find unique souvenirs to remember your visit. Mogán truly provides an unforgettable experience in Gran Canaria that should not be missed.
San Mateo
San Mateo is a charming village in Gran Canaria that you shouldn't miss. It is located in the heart of the island and offers a peaceful and serene atmosphere. The village is known for its beautiful surroundings, with lush green landscapes and breathtaking views.
One of the highlights of San Mateo is its weekly market, which takes place every Sunday. Here, you can find a wide variety of local products like fresh fruits, vegetables, cheese, and crafts.
It's a great place to immerse yourself in the local culture and taste some delicious traditional food. So when you visit Gran Canaria, make sure to include San Mateo on your itinerary for an authentic and enjoyable experience.
Gáldar
Gáldar is definitely one of the nicest villages you can visit in Gran Canaria. Located on the northwest coast of the island, Gáldar has a rich history and plenty of charm to offer.
One of its main attractions is the Church of Santiago de Los Caballeros, which dates back to the 16th century and showcases beautiful architecture and artwork. The town also has an Archaeological Park with ancient caves that were once used by the indigenous Canarian people.
If you're interested in learning about the local culture, make sure to visit La Casa-Museo Antonio Padrón, a museum dedicated to modernist art and traditional crafts. Overall, Gáldar offers a unique blend of history, culture, and natural beauty that makes it well worth a visit during your time in Gran Canaria.
Exploring the Charm of Tejeda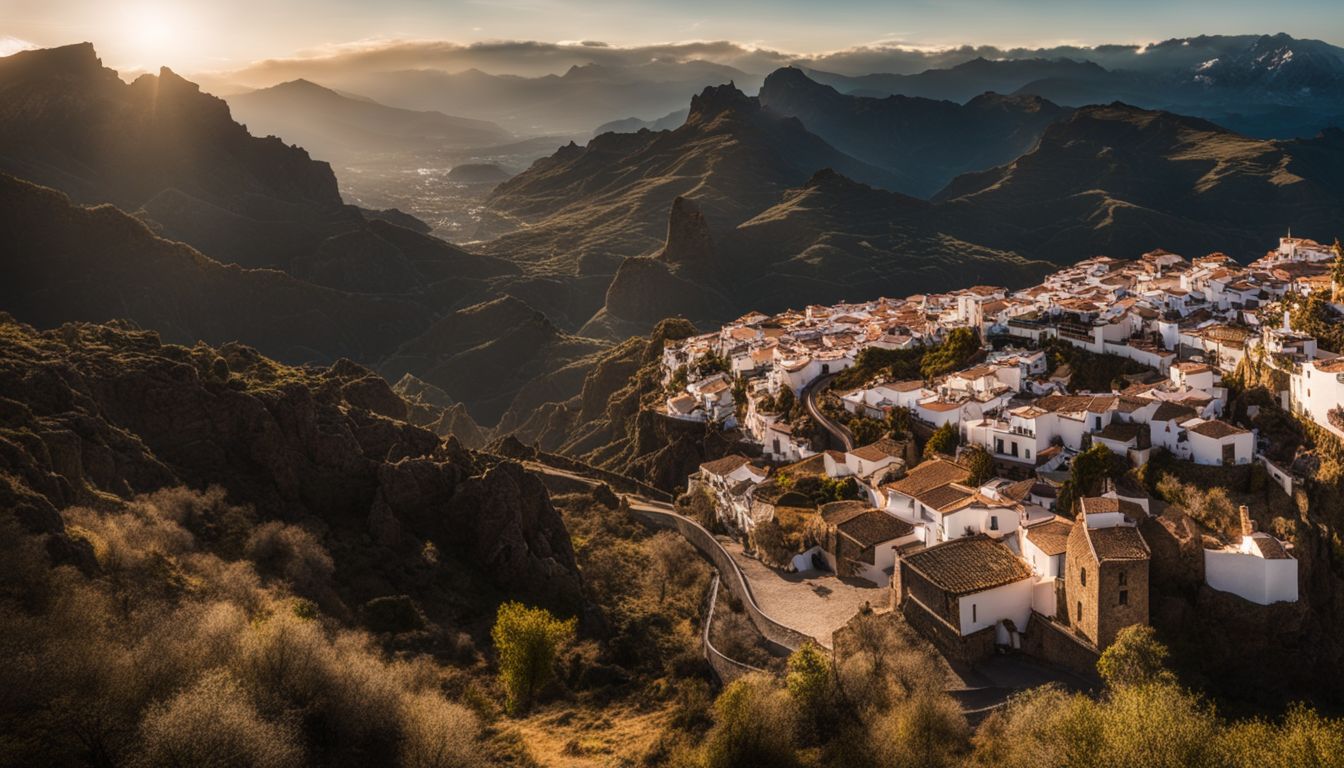 Tejeda is one of the most beautiful villages in Gran Canaria and even in all of Spain. It is a charming place that captivates visitors with its stunning natural surroundings and traditional Canarian architecture.
The village is nestled in a picturesque valley surrounded by towering mountains, offering breathtaking views at every turn.
One of the main attractions in Tejeda is the Roque Nublo, a famous rock formation that stands tall above the village. Many tourists come here to hike up to Roque Nublo and enjoy the panoramic views from its summit.
The village itself has narrow cobblestone streets lined with white houses adorned with colorful flowers, creating a postcard-worthy scene.
Tejeda also boasts an abundance of cultural heritage, including historic buildings and churches. The Church of Nuestra Señora del Socorro is particularly noteworthy for its beautiful facade and intricate details inside.
In addition to its natural beauty and architectural charm, Tejeda offers visitors plenty of outdoor activities to enjoy. From hiking trails through lush forests to exploring nearby caves and ravines, there are endless opportunities for adventure in this enchanting village.
Whether you're looking to immerse yourself in nature or simply soak up the authentic atmosphere of a traditional Canarian village, Tejeda has something for everyone. It's no wonder why it's considered one of the must-visit destinations on Gran Canaria!
Agaete: A Coastal Gem with Low Houses
Agaete is a charming coastal village in Gran Canaria that is often described as a hidden gem. What makes Agaete unique is its low houses, which give the village a quaint and traditional atmosphere.
As you stroll through the streets of Agaete, you'll notice the charming architecture and colorful facades of the buildings. The village is surrounded by beautiful natural landscapes, with mountains on one side and the sparkling blue ocean on the other.
One of Agaete's main attractions is Puerto de las Nieves, a picturesque harbor where you can enjoy fresh seafood and take in breathtaking views of the Atlantic Ocean. Agaete also has several natural pools carved into volcanic rock formations, providing visitors with a unique place to swim and relax.
Don't forget to visit Los Berrazales, an area known for its coffee plantations where you can sample delicious local coffee. In Agaete, you'll experience tranquility and charm while enjoying the beauty of Gran Canaria's coast.
Teror and Its Traditional Canarian Houses
Teror is a village on Gran Canaria that showcases traditional Canarian houses. The architecture of these houses reflects the rich history and culture of the island. Walking through Teror, you'll be impressed by the colorful facades and unique features like wooden balconies and tiled roofs.
The village has managed to preserve its heritage, creating a charming atmosphere for visitors to enjoy. Don't forget to visit the Basilica de Nuestra Senora del Pino, a beautiful church that is an important pilgrimage site for locals.
Teror is definitely worth a visit if you want to experience the authentic charm of Gran Canaria's traditional villages.
Arucas: Historical Facades and Architecture
Arucas is a town in Gran Canaria that is known for its historical facades and stunning architecture. When you walk through the streets of Arucas, you'll be captivated by the beautiful buildings that showcase the town's rich history.
The highlight of Arucas is the Church of San Juan Bautista, which has an impressive gothic design and is considered one of the most important religious buildings on the island. Another must-see attraction in Arucas is Casa de los Aranaga, a historic mansion that features intricate detailing and elegant interiors.
As you explore this charming town, you'll feel like you've stepped back in time with its well-preserved architectural gems.
Discovering the Rich History of Aguimes
Aguimes is a village in Gran Canaria that has a rich history waiting to be explored. When you visit Aguimes, you will find yourself surrounded by traditional Canarian architecture and historical buildings.
One of the highlights of this village is the Church of San Sebastian, which dates back to the 18th century and showcases beautiful stone carvings. Another must-visit site is the Barranco de Guayadeque, where you can explore ancient caves that were once inhabited by the indigenous people of Gran Canaria.
Don't forget to visit the Ethnographic Museum, which offers insights into the local culture and traditions. Aguimes is definitely a place where history comes alive, and it's worth taking your time to uncover its fascinating past.
Firgas: A Town Known for Its Water Features
Firgas is a beautiful town on Gran Canaria that is famous for its water features. The main attraction in Firgas is the Paseo de Canarias, which is a series of cascading fountains that represent the seven Canary Islands.
It's a lovely place to take a walk and enjoy the sound of flowing water. Another notable feature in Firgas is the Church of San Roque, an impressive building with stunning stained glass windows and intricate architecture.
If you visit Firgas, don't forget to try their locally made mineral water, as the town also has natural springs. Overall, Firgas is a charming town known for its water elements and rich cultural heritage.
Extreme Beauty in Artenara
Artenara is a village in Gran Canaria that showcases extreme beauty. It is known for its panoramic views, making it one of the most charming villages on the island. As I explored Artenara, I was captivated by the stunning landscapes and breathtaking vistas.
The village is perched high up in the mountains, offering sweeping views of the valleys below. The rugged terrain and rocky cliffs add to its unique charm.
One of the highlights of visiting Artenara is seeing the impressive Roque Nublo rock formation. This iconic landmark stands tall and proud, creating a dramatic backdrop against the clear blue skies.
It's a popular spot for hikers and nature enthusiasts who want to soak in the awe-inspiring surroundings.
In addition to its natural beauty, Artenara also boasts traditional Canarian architecture with its whitewashed houses and charming streets. As I wandered through the village, I couldn't help but feel transported back in time.
The peaceful atmosphere and picturesque setting make it an ideal place to relax and enjoy nature.
Artenara truly offers an incredible experience for visitors seeking extreme beauty on Gran Canaria. From its panoramic views to its traditional charm, this village captures the essence of what makes this island so special.
Mogán: The "Little Venice" of Gran Canaria
Mogán is a charming village on Gran Canaria that has earned the nickname "Little Venice" because of its picturesque canals and colorful buildings. It's a must-visit for tourists looking to explore the island's beauty.
Strolling along the waterfront, you'll be enchanted by the vibrant houses reflected in the calm waters, creating a magical atmosphere. The village also offers a delightful marina where you can enjoy boat trips or simply relax and take in the views.
Don't forget to wander through Mogán's narrow streets, filled with cozy cafes and shops selling local crafts. It's an idyllic place that will leave you with unforgettable memories.