I completely understand the dilemma of deciding where to ring out the old and welcome in the new year. I've been in those shoes, sifting through facts like average temperatures – did you know that Gran Canaria boasts a comfortable 18 degrees Celsius (64 degrees Fahrenheit) even in winter? This blog post is your golden ticket to celebrating New Year's Eve in Gran Canaria, packed with details on everything from electrifying firework displays and beach parties to leisurely pursuits under warm skies…
With this guide, you'll be more than ready for the countdown when it arrives!
Weather in Gran Canaria at New Year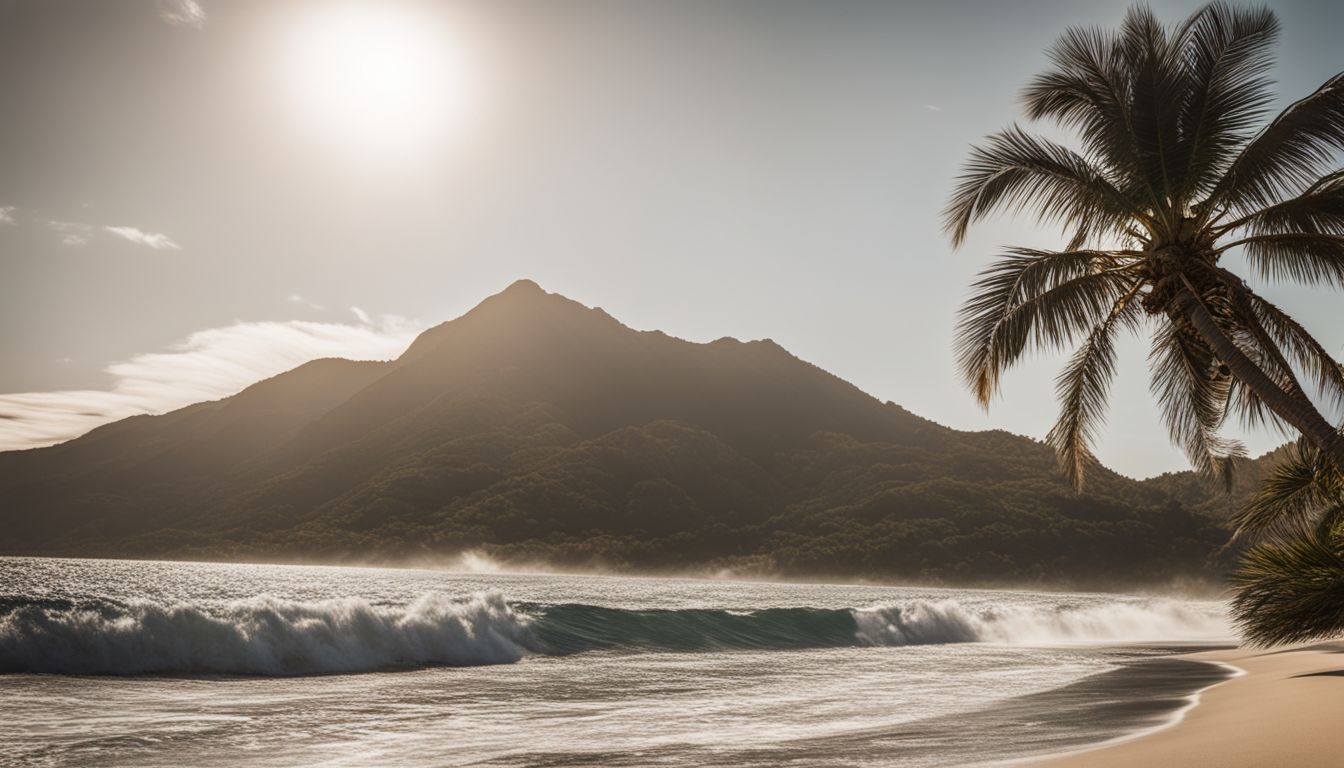 The weather in Gran Canaria at New Year is just right. You can enjoy a lot of sunshine during the day. It's not too hot, and it's not too cold either. The sky is mostly clear which keeps everyone in high spirits.
So you can stroll around or relax on the beach without any worry.
At night, you may need a light jacket or shawl as it gets a bit cooler but still very pleasant. This balmy weather makes Gran Canaria an ideal spot for outdoor parties and events, such as fireworks displays and concerts in Plaza de Las Palmas on New Year's Eve!
Celebrations in Gran Canaria for the New Year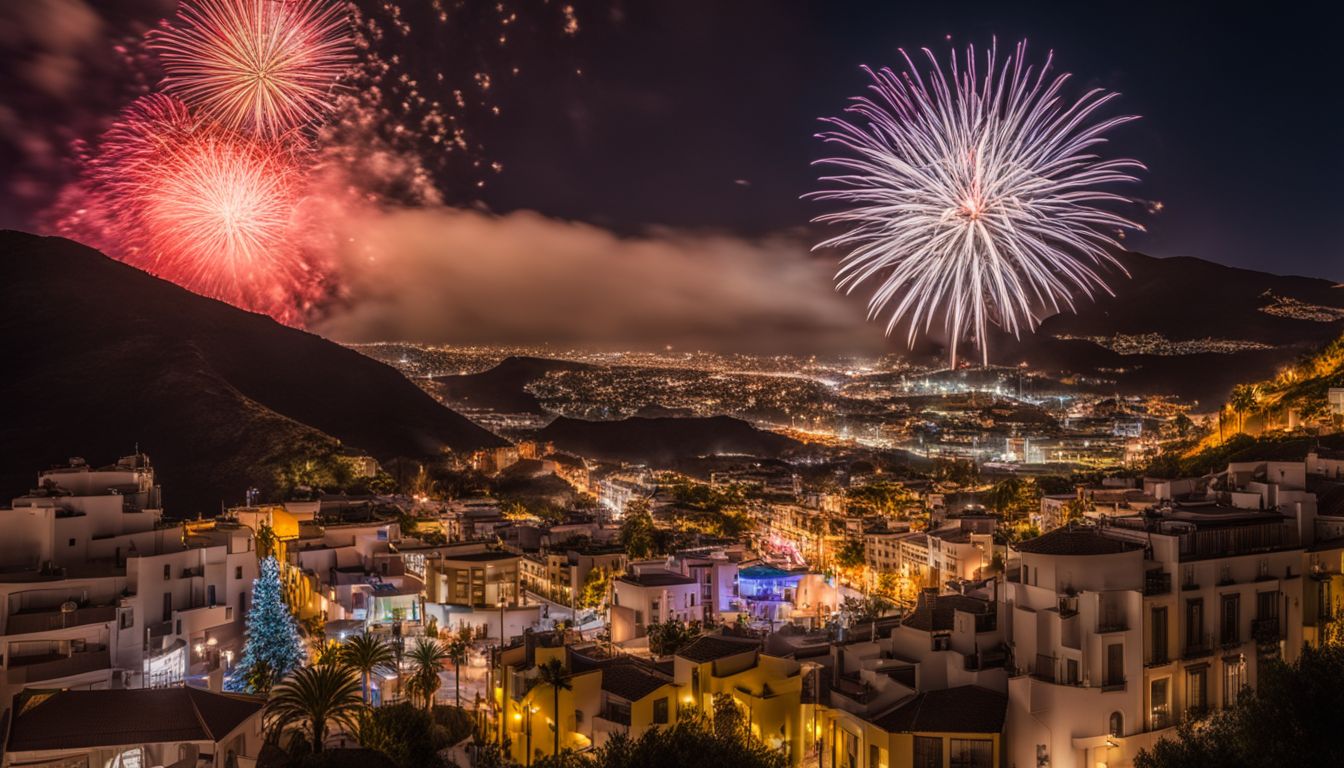 Gran Canaria is known for its vibrant and lively celebrations during the New Year, with various cities and towns offering exciting festivities to ring in the new year.
Las Palmas de Gran Canaria
Las Palmas de Gran Canaria is the place to be on New Year's Eve. You can watch amazing concerts here. Plus, it has the best fireworks show in Plaza de! All these make this city a hot spot for fun.
The atmosphere is friendly and lively all around Las Palmas. It fills us with joy as we say goodbye to the old year. Get ready for great music, colorful skies, and happy parties. It's not just any party but one that lasts all night long! So come join us here in Las Palmas de Gran Canaria.
We're sure you'll have a blast.
Playa del Ingles and Maspalomas
Playa del Ingles is lively on New Year's Eve. The Yumbo Centre in Playa Del Ingles puts on a great firework show. There, the air buzzes with fun and joy. Maspalomas offers another chance to ring in the New Year on Gran Canaria.
It's an iconic place in the Canary Islands to enjoy this special night. At Dunes of Maspalomas, you can find a quieter setting for your celebrations under colorful skies.
Mogan
Mogan is another destination in Gran Canaria that offers a fantastic New Year experience. This charming town is known for its picturesque marina and beautiful beachfront promenade, making it an ideal place to relax and enjoy the festivities.
On New Year's Eve, Mogan comes alive with street parties, live music performances, and dazzling fireworks displays. Visitors can take leisurely walks along the streets of Mogan, taking in the vibrant atmosphere and enjoying the colorful skies lit up by fireworks.
It's a great option for those seeking a more laid-back celebration while still embracing the excitement of New Year's Eve in Gran Canaria.
Las Palmas de Gran Canaria
Las Palmas de Gran Canaria is a great place to celebrate New Year's Eve. The city hosts concerts and fireworks in Plaza de Las Palmas, creating a lively atmosphere for the festivities.
You can enjoy live music, dance along with the crowd, and watch colorful skies light up with magnificent fireworks. It's an exciting way to welcome the new year with lots of energy and joy.
Las Palmas de Gran Canaria offers a vibrant nightlife scene during this time, so you can continue the celebrations at bars and clubs after midnight. With its festive ambiance and spectacular events, Las Palmas de Gran Canaria is definitely worth considering for your New Year's Eve plans in Gran Canaria.
Fun Activities in Gran Canaria
There are plenty of fun activities to enjoy in Gran Canaria during the New Year, such as dolphin watching, exploring affordable accommodations, and experiencing various entertainments.
Dolphin watching
One exciting activity to enjoy in Gran Canaria during the New Year is dolphin watching. You can go on a boat tour and witness these amazing creatures swimming and playing in their natural habitat.
It's a thrilling experience that both kids and adults will love. The clear waters of the Canary Islands provide the perfect opportunity to see dolphins up close, as they are known to frequent the area.
So, if you're looking for a unique and memorable way to spend your New Year's holiday, don't miss out on the chance to go dolphin watching in Gran Canaria!
Affordable accommodations
If you're looking for affordable accommodations in Gran Canaria during New Year, you have plenty of options. The island offers a range of budget-friendly hotels, hostels, and apartments that cater to different needs and preferences.
Whether you prefer to stay near the beach or in the city center, there are affordable options available. You can also consider booking through online travel websites to find the best deals and discounts.
Don't worry about sacrificing comfort or quality – many of these affordable accommodations still offer clean rooms, friendly staff, and convenient amenities. So you can enjoy your New Year's celebrations without breaking the bank!
Miscellaneous entertainments
During New Year in Gran Canaria, there are plenty of other fun activities and entertainments to enjoy. If you love dolphins, you can go dolphin watching and witness these amazing creatures in their natural habitat.
There are also affordable accommodations available, making it easier for tourists to find a place to stay without breaking the bank. Apart from that, Gran Canaria offers various miscellaneous entertainments such as visiting Palmitos Park with its beautiful gardens and exotic animals.
Whether it's enjoying leisurely walks on the streets of Gran Canaria or exploring the colorful skies during fireworks displays, there is something for everyone to enjoy during New Year in this sunny Canary Island destination.
Palmitos Park
One of the fun activities in Gran Canaria is visiting Palmitos Park. I really enjoyed my time exploring this beautiful park filled with exotic plants and animals. There are colorful parrots, playful dolphins, and even a bird show that was entertaining to watch.
The park also offers various educational presentations where you can learn more about the different species they have. It's definitely worth a visit if you're looking for something unique to do during your trip to Gran Canaria.
Hotels for a New Year's Eve in the Canary Islands
Gran Canaria offers a wide range of hotels to choose from for New Year's Eve celebrations. Whether you're looking for luxury or budget-friendly accommodations, there is something for everyone.
One popular choice is the Abora Interclub Atlantic, known for its beautiful beachfront location and excellent facilities. Another option is Villas Altamarena, offering spacious villas with private pools, perfect for families or large groups.
The Lopesan Hotel Group also has several properties on the island, providing luxurious amenities and stunning views. No matter where you decide to stay, Gran Canaria's hotels offer a comfortable and convenient base for enjoying all the festivities during New Year's Eve in the Canary Islands.
New-gen: Hotels in Gran Canaria are perfect choices that provide comfort and great locations to celebrate New Year's Eve. Abora Interclub Atlantic stands out with its beautiful beachside setting and amazing facilities.
Families or big groups can opt for Villas Altamarena which offers spacious villas complete with private pools. For those seeking luxury accommodations with breathtaking views, look no further than Lopesan Hotel Group properties dotted around the island.
Rest assured that wherever you choose to stay in Gran Canaria this New Year's Eve, it will be a memorable experience filled with fun and excitement amidst beautiful surroundings.
Fireworks on the Beach in Las Palmas de Gran Canaria
Las Palmas de Gran Canaria is the perfect place to watch fireworks on the beach during New Year's Eve. This city hosts a fantastic celebration with concerts and fireworks in Plaza de Las Palmas.
The colorful skies light up, creating a breathtaking sight for everyone to enjoy. I love being able to walk along the beach and witness this incredible display while feeling the warm breeze on my face.
It's truly a magical experience that you don't want to miss when visiting Gran Canaria for New Year.
New Year in a Boat in the Canary Islands
Celebrating New Year's Eve on a boat in the Canary Islands is a unique and exciting experience. Imagine ringing in the new year surrounded by beautiful ocean views and feeling the gentle breeze on your face.
Many companies offer special boat tours and cruises specifically for this occasion. You can enjoy live music, dancing, delicious food, and of course, fireworks at midnight. It's a fantastic way to celebrate with friends or family while creating unforgettable memories.
The Canary Islands are known for their warm weather even during winter, so you can enjoy a comfortable evening outdoors as you bid farewell to the old year and welcome in the new one onboard a boat.
The Best Hotels for a New Year's Eve in the Canary Islands
Looking for the best hotels for a memorable New Year's Eve in the Canary Islands? Check out these top recommendations that will make your celebration extra special! Curious to know more? Keep reading.
Abora Interclub Atlantic
Abora Interclub Atlantic is one of the best hotels to consider for spending New Year's Eve in Gran Canaria. It offers comfortable accommodations and a range of amenities to make your stay enjoyable.
The hotel has a friendly and welcoming atmosphere, perfect for celebrating the start of the New Year. You can indulge in delicious food at the on-site restaurants and enjoy entertainment options throughout your stay.
With its convenient location, you can easily access nearby attractions and join in the festivities happening around Gran Canaria during this festive season.
Villas Altamarena
Villas Altamarena is a great choice for spending New Year in Gran Canaria. These villas offer comfortable accommodations and are located near popular attractions. You can enjoy the warm weather and beautiful beaches of Gran Canaria during your stay at Villas Altamarena.
The villas provide a cozy and relaxing atmosphere, making it the perfect place to unwind after New Year's Eve celebrations. With their convenient location, you'll have easy access to the festivities and fireworks in Las Palmas de Gran Canaria.
Whether you're looking for relaxation or excitement, Villas Altamarena is an excellent option for your New Year getaway in Gran Canaria.
Lopesan Hotel Group
Lopesan Hotel Group is a great choice for your New Year's Eve stay in Gran Canaria. They offer comfortable and affordable accommodations that will make you feel right at home. With their excellent service and attention to detail, you can rest assured that your stay will be enjoyable.
Lopesan Hotel Group also provides a range of amenities and facilities, including swimming pools, restaurants, and entertainment options. Whether you're traveling with family or friends, Lopesan Hotel Group has something for everyone.
So why not start the new year off right by staying at one of their fantastic hotels?.
How to Reach Gran Canaria
Getting to Gran Canaria is easy and convenient for tourists. Here are some ways to reach this beautiful destination:
By Air: The most common way to reach Gran Canaria is by air. The island has its own international airport, Gran Canaria Airport, which receives flights from many major cities around the world. There are also several airlines that offer direct flights to Gran Canaria.
By Sea: If you prefer a more leisurely journey, you can also reach Gran Canaria by sea. The island has a port called Puerto de Las Palmas, which welcomes cruise ships and ferry services from neighboring islands like Tenerife and Lanzarote.
By Car: Once you arrive in Gran Canaria, renting a car is a great option for exploring the island at your own pace. There are several car rental companies available at the airport and in various locations throughout the island.
By Public Transportation: Gran Canaria has a reliable public transportation system, with buses that connect different parts of the island. You can easily get around using the bus network, and there are also taxis available for shorter journeys.
By Tour Packages: Many tour operators offer packages that include transportation to and from Gran Canaria. This can be a convenient option if you prefer to have all your travel arrangements taken care of.