Ever felt the itch to explore the extraordinary Maspalomas Dunes in Gran Canaria, but a bit anxious about parking logistics and how to make the most out of your stay? You're not alone! With a staggering number of visitors flocking this famed tourist spot every year, getting the lay of the land can be quite challenging.
That's where I come in: after extensive research, I've put together all you need to know about parking facilities at Maspalomas Dunes, directions on how to get there, nearby accommodations and thrilling outdoor activities like camel riding or birdwatching.
All geared towards ensuring that your adventure is as spectacular as possible. So let's buckle up and take this exciting ride together!
The Maspalomas Dunes: A Must-See in Gran Canaria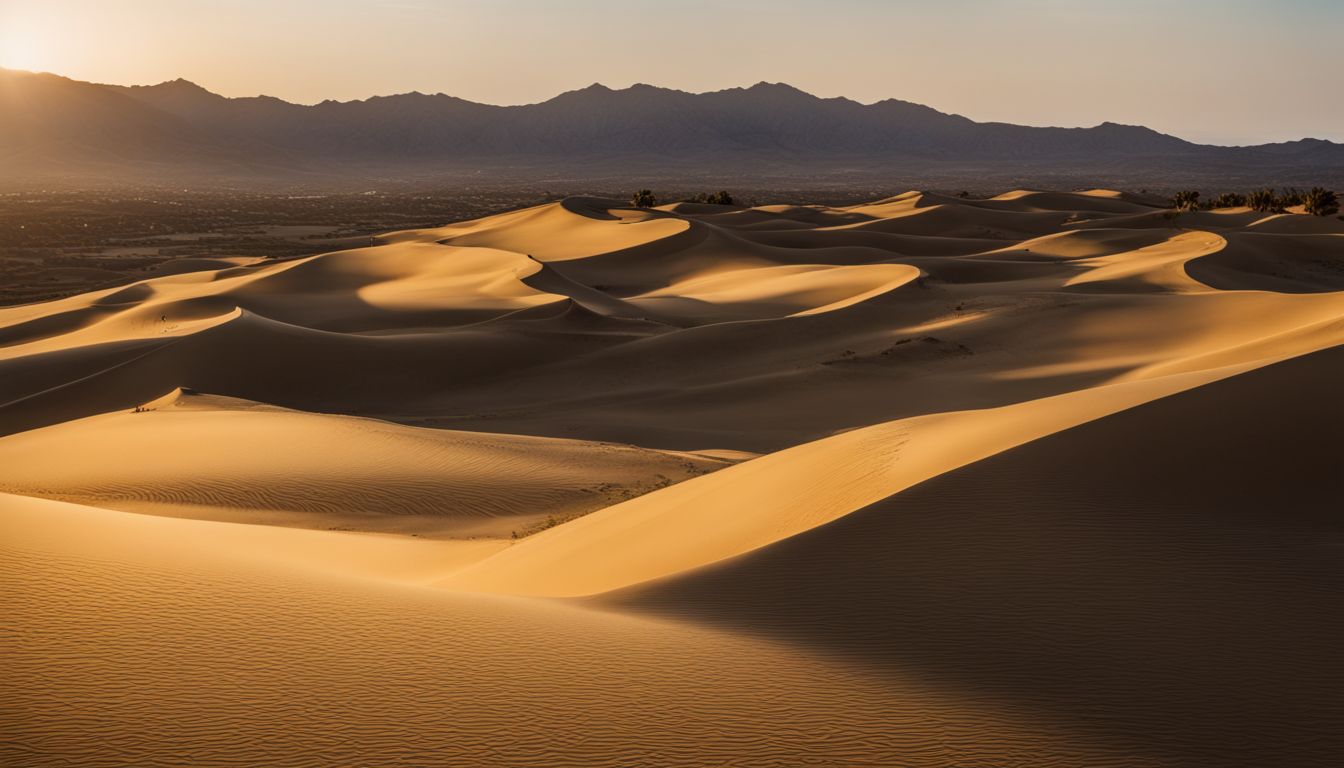 The Maspalomas Dunes are a must-see attraction in Gran Canaria, with their stunning natural beauty and unique formation.
How the Maspalomas Dunes were formed
The Maspalomas Dunes came to be over a long time. Tiny pieces of shell and coral got crushed into sand by the sea. The wind blew this sand onto the land. Over many years, these piles of sand grew into large dunes.
They look much like a desert but they are right next to the ocean! It's very unique and that's why so many people come to see them every year.
Walking on the Maspalomas Dunes
Maspalomas Dunes feel like a tiny desert in Gran Canaria. Sharp grains of sand tickle my feet as I walk. Going up and down the dunes is enjoyable but can be tiring too. Walking on them can take about one kilometer from the beach.
The best part is looking around at the 5.6 km stretch of sand all the way to Faro de Maspalomas. The view takes my breath away every time! It's not just me – thousands come to see this beautiful place every year.
Activities at the Maspalomas Dunes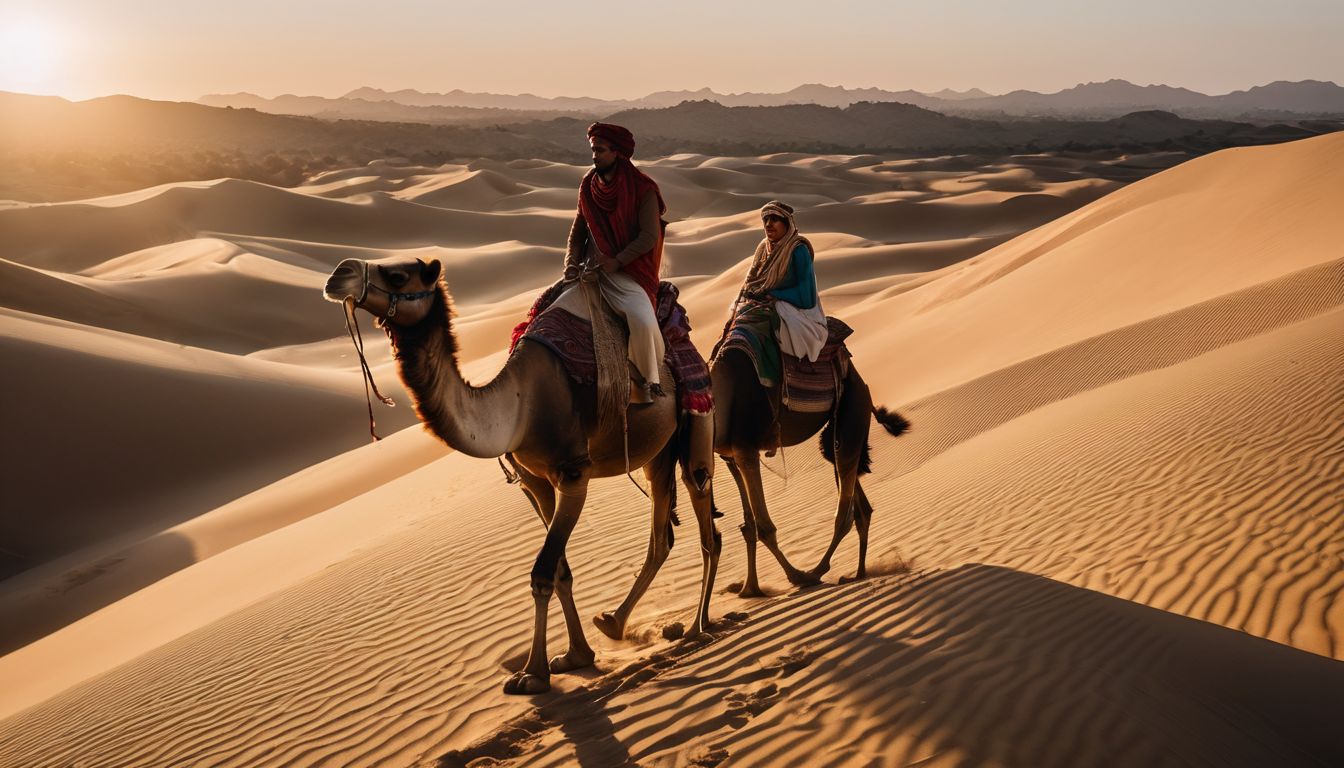 Visitors to the Maspalomas Dunes can enjoy a variety of activities, including relaxing on Maspalomas Beach, taking camel rides through the dunes, and birdwatching in the surrounding nature reserve.
Maspalomas Beach
Maspalomas Beach is a hit with tourists. It's right next to the Maspalomas Sand Dunes in south Gran Canaria. You can walk from the dunes to the beach in less than one kilometer! This beach has it all: a palm tree oasis, lagoon, and sand dune system.
Many people like to surf here where Maspalomas connects with Playa del Inglés. Also, there's a spot for those who prefer no clothes between beach bars 5 and 6. So, come enjoy the sun and fun at Maspalomas Beach!
Camel rides at the dunes
I love going on camel rides at the Maspalomas sand dunes. It's a unique experience that allows you to explore the stunning landscape in a fun and adventurous way. The camels are gentle and well-trained, making it safe for everyone to enjoy.
As you ride along, you'll get to admire the vastness of the dunes and feel like you're in a different world. Don't forget to take some amazing photos during your camel ride! It's definitely one of the must-do activities when visiting the Maspalomas Dunes.
Birdwatching
Birdwatching at the Maspalomas Dunes is a wonderful activity for nature lovers. With its unique ecosystem, the dunes attract a wide variety of bird species. You can spot colorful birds like the Hoopoe and Kentish Plover, among others.
It's a great opportunity to bring your binoculars and observe these beautiful creatures in their natural habitat. Keep an eye out for migratory birds too, as they make their way across the Atlantic Ocean to rest and refuel at this important stopover point.
Don't forget to pack your camera and capture some amazing shots of these feathered friends during your visit to the Maspalomas Dunes!
How to get to the Maspalomas Dunes
Getting to the Maspalomas Dunes is easy with various transportation options available, including taxis, buses, and rental cars. If you prefer to drive yourself, there is parking available near the dunes for your convenience.
https://www.youtube.com/watch?v=s_M_UwcNbdQ
Transportation options
To get to the Maspalomas Dunes, there are a few transportation options available. You can take a taxi or use public buses, which have regular routes to the area. If you prefer driving, there is a paid parking area near the dunes where you can leave your car.
However, finding parking close to Maspalomas beach can be challenging at busy times. Alternatively, you can park in the surrounding area and walk to the dunes using the promenade, which provides easy access on foot.
It's important to note that roads close to Maspalomas may be busy during peak tourist seasons, so plan ahead for potential traffic delays.
Parking information
Finding parking near the Maspalomas Beach and Sand Dunes can be a bit challenging, especially during busy times. There is a designated parking area available, but it tends to fill up quickly.
If you can't find a spot there, don't worry! You can also park in the surrounding area and then continue on foot. Just keep in mind that it may take some time to find a suitable parking spot.
The promenade provides easy access to the beach and sand dunes, so you won't have to walk too far once you've parked your car. Remember to plan accordingly and allow for some extra time if you're driving to this beautiful nature reserve space in Gran Canaria.
Accommodation near the Maspalomas Dunes
If you're looking for accommodation near the Maspalomas Dunes, there are plenty of options to choose from. Here are some places where you can stay:.
– Hotels and Resorts: There are many hotels and resorts located near the Maspalomas Dunes that offer comfortable rooms, pools, and other amenities. Some popular options include Lopesan Costa Meloneras Resort & Spa, Hotel Riu Palace Oasis, and Hotel Faro.
– Apartments and Villas: If you prefer a self-catering option or more privacy, there are also apartments and villas available for rent in the area. These accommodations often come with kitchen facilities and private outdoor spaces.
– Bungalows: Another popular choice is staying in a bungalow. Maspalomas offers various bungalow complexes that provide a cozy home away from home experience.
– Campgrounds: For those who enjoy camping or want to be closer to nature, there are also campgrounds available nearby where you can pitch your tent or park your camper van.
Remember to book your accommodation in advance as it can get busy during peak seasons. Whether you're looking for luxury or budget-friendly options, there is something for everyone near the Maspalomas Dunes.
FAQ about the Maspalomas Dunes
Can you enter the dunes? Find out the answer to this and other frequently asked questions about the Maspalomas Dunes. Read more to plan your visit!
Can you enter the dunes?
Yes, you can enter the Maspalomas sand dunes! The dunes are open to visitors and you can explore them on foot. There is a designated pathway that allows you to walk through the dune reserve and experience its unique beauty up close.
Just remember to respect the natural environment and follow any regulations or guidelines in place for visitor safety. Enjoy your time exploring the stunning Maspalomas sand dunes!
Weather conditions
The weather conditions at the Maspalomas Dunes in Gran Canaria are generally warm and sunny throughout the year. The island experiences a mild climate with temperatures ranging from 20 to 30 degrees Celsius (68 to 86 degrees Fahrenheit) during the summer months, making it perfect for enjoying outdoor activities like walking on the dunes and visiting the beach.
Even in the winter, temperatures remain pleasant, usually ranging from 15 to 25 degrees Celsius (59 to 77 degrees Fahrenheit). It's important to note that while rainfall is rare in this area, there can be occasional showers during the cooler months.
So be sure to pack sunscreen and dress comfortably for your visit!
Where to eat
There are plenty of dining options near the Maspalomas Dunes that cater to different tastes. Whether you're looking for local Canarian cuisine or international dishes, you'll find something to satisfy your hunger.
Along the promenade, you can find beachfront restaurants and cafes where you can enjoy a meal with a view of the ocean. There are also several shopping centers nearby with a variety of eateries ranging from casual fast food joints to sit-down restaurants.
Don't forget to try some traditional Canarian dishes like papas arrugadas (wrinkled potatoes) or fresh seafood caught in the islands' waters.

Best Time to Visit the Maspalomas Dunes
The best time to visit the Maspalomas Dunes in Gran Canaria is during the spring, summer, autumn, or winter.
Spring
In spring, the Maspalomas Dunes come alive with vibrant colors and pleasant weather. It's a great time to visit this natural wonder in Gran Canaria. The temperature is mild, ranging from 20-25 degrees Celsius, making it perfect for outdoor activities like walking on the sand dunes or enjoying the beach.
Spring also brings an abundance of bird species to the area, so birdwatching enthusiasts will be delighted. Whether you're looking to relax on the beach or explore the dunes, spring is a wonderful time to experience the beauty of Maspalomas.
Summer
During the summer months, visiting the Maspalomas Dunes is a popular choice for tourists. The warm and sunny weather makes it perfect for enjoying outdoor activities such as walking along the beach or exploring the sand dunes.
You can take a refreshing dip in the ocean at Maspalomas Beach or try out some water sports like surfing. The summer season also offers great opportunities for birdwatching, as many migratory birds stop by the dunes during this time.
Just be sure to bring sun protection and stay hydrated while you enjoy everything that Maspalomas has to offer in the summertime!
Autumn
During the autumn season, visiting the Maspalomas Dunes is a great idea. The weather is still warm and pleasant, making it enjoyable to explore the sandy landscape. Autumn is also considered a shoulder season, which means fewer tourists and less crowded parking areas.
You can take a leisurely stroll along the promenade and enjoy the beautiful views of the sand dunes and beach. It's also a great time for birdwatching as migratory birds make their way through Gran Canaria during this season.
Don't forget to bring your camera to capture the stunning colors of autumn against the backdrop of the dunes.
If you're planning to visit in autumn, it would be helpful to know that parking close to Maspalomas beach can still be quite busy during peak hours. However, there are designated parking areas available where you can park your vehicle safely while you explore on foot.
Winter
During the winter months, visiting the Maspalomas Dunes can be a delightful experience. The temperatures are mild, averaging around 20 degrees Celsius (68 degrees Fahrenheit), making it a perfect time for outdoor activities.
You can take long walks on the beach and explore the sand dunes without worrying too much about overheating. It's also a quieter time of year with fewer tourists, so you'll have more space to enjoy the stunning natural landscapes.
Don't forget to bring your camera along to capture the beautiful sunsets over the dunes during this magical season.
Top Attractions near the Maspalomas Dunes
Palmitos Park, a beautiful botanical garden and wildlife park, is one of the top attractions near the Maspalomas Dunes. With its exotic plants, stunning bird shows, and dolphin exhibits, it's a must-visit for nature lovers.
Plus, don't miss the iconic Maspalomas Lighthouse just a short distance away – climb to the top for breathtaking views of the dunes and surrounding ocean.
Maspalomas Lighthouse
The Maspalomas Lighthouse is one of the top attractions near the Maspalomas Dunes in Gran Canaria. It stands tall and proud on the southern coast of the island, offering breathtaking views of the surrounding area.
The lighthouse has a rich history dating back to 1890 when it was first built to guide ships safely to shore. Today, visitors can climb up to the top of the lighthouse for panoramic views of the ocean and dunes.
It's a great spot for taking photos or simply enjoying the beauty of nature. Don't forget to bring your camera!
New regulations
I want to share some important information about the new regulations related to visiting the Maspalomas Dunes. These regulations have been put in place to help protect this beautiful natural area.
One of the new regulations is that visitors are not allowed to drive or park their cars on the sand dunes anymore. This helps prevent damage to the fragile ecosystem and ensures that everyone can enjoy the dunes safely.
Additionally, it's important to note that smoking is also prohibited in the dune reserve, as well as bringing pets onto the beach area. By following these new regulations, we can all do our part in preserving this incredible natural treasure for future generations to enjoy.